I started my day making soup that I knew I'd want in the afternoon. Good comfort food on a chilly day.
I was very random today. Not accomplishing a whole lot and bouncing from thing to thing. Restless, I guess. I finished Olivia's hat.
Variegated
yarn will do the weirdest things sometimes. I like the style, the color and feel of the yarn, but not crazy about how the colors didn't mix more.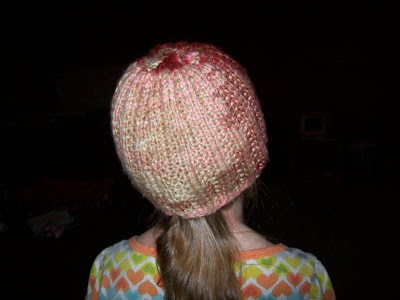 Two busy little people always doing something!
Millie is the biggest 4-month old puppy. Still a bit of a clod-hopper, but getting more coordinated every day. Still very mellow and gentle although she catches us on occasion with those sharp puppy teeth by accident. I'll be glad when those are gone. My son, Elijah, says to me tonight, "Who catches a pigeon in their yard and puts it in a cage?". He really thinks his mom is batty.
Lucas packs that dog everywhere and is constantly in her face. She is constantly trying to hide! It's amusing to watch.
Decided to cut out my Thanksgiving decorations that I traced awhile back. I took it outside thinking I would keep the mess out there.
Wrong.
It was so cold. I don't know how one day 10* can feel great and another day it is biting, but today it was biting cold. I cut it into three sections and then took it all inside to finish.
Then I got out my
dremel
tool and smoothed any rough edges. I also got one coat of paint (as primer) on one piece. I normally use white, but was out so I used yellow. Maybe I'll do some more tomorrow. I used to do a ton of woodworking when Nick and Elijah were about 6 and 3, but haven't done it for years. Itching to do more for some reason. I normally use a scroll saw, but it is out in the van and I didn't have anyone home to carry it in for me. My jig saw worked pretty good. (I got it for Christmas and it was my first time using it).
We played some more
Wii
tonight. Apparently, it came with two discs of games that I didn't notice. Here they are paddling canoes. Yes, Olivia is looking rough and is wearing her clothes from yesterday. Sometimes that's how we roll...we don't sweat the small stuff.
Nick and Emily have been gone since Friday morning.
I miss them.
Told them they have to come home in the morning. You know how it is. I get torn between wanting to spend time with them, but I also remember being their age and I always stayed with friends. If I make them stay home all the time they'll be missing out on a lot of fun and good memories. Elijah brought a friend home tonight (after biking at Joel's Place) so at least he is here.
Even if they are up in his room.