Daisy does not fail to greet me at meal time. She loves her kibbles.
It's finally arrived....Elijah's new Sunday Aaron Ross bike. It's a pro model ($700) and he has been wanting it since the beginning of summer. He was all smiles putting it together. It was even bike night at Joel's Place (a small indoor park) so his brother took him to test it out.
Comparisons? Look at the size of Millie compared to little Rusty. She is going to be a big dog!
Miss Roxie got a time-out. She won't let Millie eat.
At 10:00pm my wild child decides that I need to shave his head and put designs in it for "I Can't Believe You Wore That To School" Day (today) for spirit week. Working with dull clippers and scissors we came up with this which isn't too bad considering this is the first time I've ever done anything like this. (Finally finished up at 12:30am.... that kids gets me every time). Oh, and it looks much better in person than in these photos. And he doesn't have a funky red sores on his head...that is the red marker I used to draw before shaving.
Shaved it short and then started with a star.
Added some lines.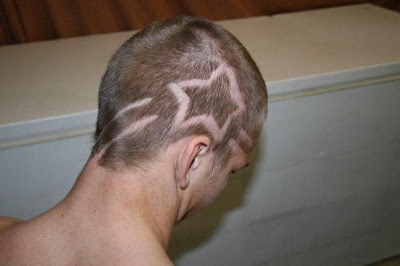 Then Batman.
More lines.
And more lines. Must be cool to be a boy, do crazy stuff to your hair and know in two weeks it will be gone.
Oh, and I made him a hat while watching
tv
so his head doesn't get cold.
This morning is sunny and crisp. The snow was really sparkling.
Again, my laziness knows no bounds. It is time for me to move.... or maybe at least get dressed? I guess after working so hard all summer I deserve a little slacking. :) And slacking I am!!