The party never ends.
Or so it seems.
Monday was Emily's real birthday so we had a family party at home. I spent the morning sick, but by afternoon I was able to get my act together and start cooking. I made sweet meatballs, artichoke & spinach dip, a cheese/salsa dip, toasted bread for the cheese spreads, a meat & cheese tray, fruit tray (which was actually for the chocolate fountain that wouldn't heat up) and birthday cakes. I finished up about 5 minutes before everyone arrived so no shower.
Ug
!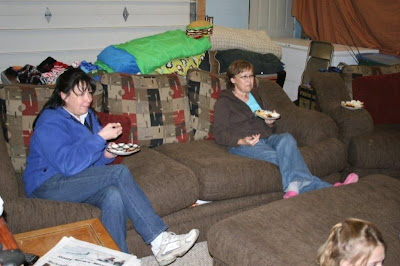 Our guests were Grandma Debbi and Grandpa Hutch, my niece Tisha with her girls
Jadyn
&
Justise
, my friend Jen and her boyfriend Steve, my ex-husbands new wife Christina and her niece and nephew Teresa and Clayton. Of course, Homer, Lucas, Nick & Elijah as well. It was a nice little gathering to wish Emily Happy Birthday one more time. (Yes, she put 11 candles on each cake??? She was 22 for a day.)
Such a great game. Elijah (a freshman) is guarding a senior from his previous school. The kid was
talkin
' so much smack to Elijah before/during the game. I think it just made Elijah play harder and he tore the kid up making 24 of our 52 points!
Here's Nick on defense and making a lay-up. I'm so glad I talked him into playing. He's never done the city league before and it is fun to watch him play.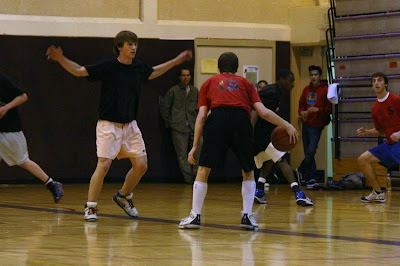 We had some offense.
We had some defense. It was a fast-paced game and in the end we won by 5.
And that was the first of five games this week!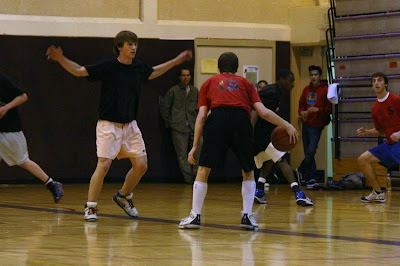 Here's Tuesday. It snowed and snowed which is great because our roads are awful. The snow will help with traction. When we were coming home from the game the night before the road was blocked by stuck vehicles so I had to pull over and wait. I wish I would have had a video camera with me. Nick and Elijah got out and were sliding down the road in their shoes.... for 30+ feet. Solid ice! Of course, I have two wheel drive and a big heavy van so I spun out, was all sideways in the road and they finally slid to another driveway where I could turn around and then make a run at the hill. Exciting times!
So in yesterday's snow and crappy roads I decided to go shopping with Lucas all day because I'm stupid like that. Hey, the kid doesn't have any clothes to wear. We hit Old Navy's clearance racks and picked up shirts for $2.50. I also got some things for Olivia. We made another stop at Fred Meyer to eat lunch and get groceries and then it was home to work on the house. Time for a little more organization.
I put Olivia's clothes in here so she can just get up and dress herself. I mean, she does that already, but it doesn't always match! Then I put Lucas' clothes on the table by the bed so he can just get up and get dressed.
I put out their pajamas for bedtime. Anything to make life smoother. You are probably wondering why I've had kids for almost 18 years and am just now doing this. Well, that's not really the case. I've had routines and been organized before, but I've moved, I've remarried and I've raised step-kids. The last few years have been chaos with the constant changing of bedrooms, moving the kitchen and living area... everything being a construction zone.
Sooooo
.... since it is taking so long to finish the house I'm just packing stuff up and organizing life the best I can. It gets better everyday.
It's amazing how 32* with snow on the ground is so much warmer than 32* without snow. I was shovelling in a t-shirt. And, yes, 32* was our high yesterday. Emily compacted the snow in her path to the bus. Once there is a few inches compacted to protect the grass I'll shovel the rest of the winter.
Nick cut up a tree, Elijah hauled some wood with the 4-wheeler, the Wee People played in the snow and I had to kill a chicken. Why do I get all the fun? Not! The
Rosecombs
are overly curious and friendly. They will not stay in the pen with the other chickens and frequently are in with Daisy where there is no netting. That damn raven that attacked this Spring came back. I found my rooster half-eaten, but still alive. I had to take care of it and it sucked. I can't wait until the chicken coop is done and they are in for the winter. This Spring I will devise a gate they can't sneak out and hopefully this won't happen again. If it weren't so illegal that raven would be so dead.
Time to get Olivia off to school and then back to packing/cleaning/maintaining. At least I got five loads of laundry done yesterday so only a few more to do today. I'm looking forward to getting it all gone through!