This is not what I expect to see when I take the lid off the feed. That's the reason for the lid. After the initial shock I was a successful Mouse Slayer.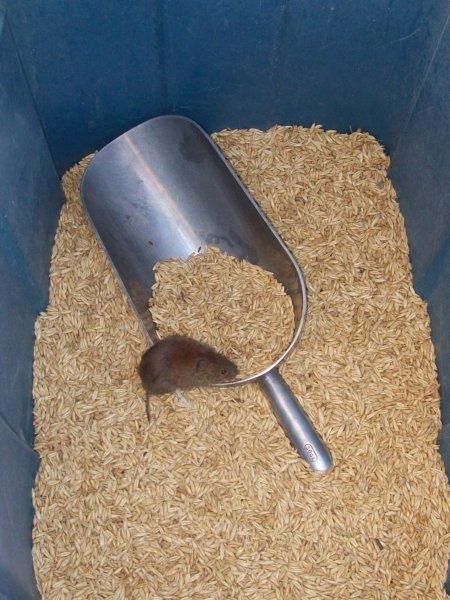 Oh what a mess. Leaves everywhere and under it hoses and pumps. I rolled up 6 or 7 hoses and stored all the pumps. I was going to blow the leaves, but the recoil rope broke on the second pull.
Cleaned my shed. I know that probably isn't thrilling for you, but the little things in life keep me going. Hopefully this year I'll get doors to keep the snow out. Not holding my breath.
Cleaned the greenhouse giving Homer lots of room to put on the roof. We'll see.
It is so hard to get a good photo of Millie. She won't get more than a couple feet from me.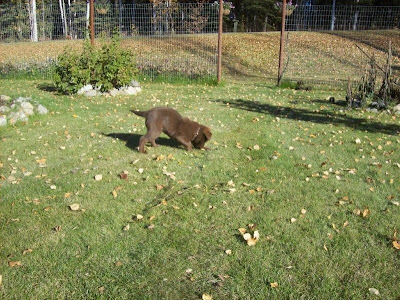 I've been having Millie ride on the 4-wheeler. She's not afraid one bit, but she's a clumsy puppy.
Yesterday I got a lot of help from Nick and
Prakash
. They emptied a 20-foot
connex
of winter stuff and loaded it back up with the summer stuff. They helped me finish cleaning the flower beds and took down my hanging baskets. There's still quite a bit to do, but that was a huge relief.
So many leaves. I mowed them up and had to empty the bag with each pass. I'll put it all in the compost bin. Daisy is snacking on some petunias before we finish pulling them out.
Olivia and Lucas came back from Grandma Debbi's house singing "Trick or Treat". They sure have a lot of fun with their grandma.
Started my Sunday baking cinnamon rolls. I need to go outside and I don't want to. I need to clean upstairs and I don't want to. I need to do a lot of stuff and I don't want to.
But I will.