Yesterday, at little before 10:00am, I headed out to clean the pond. Any morning it's going to be a day too late. Well, at 33* my hose was frozen because even after all these years I can't remember to drain it at night.
The wind was blowing and it was downright cold. I'm just over the hill so this time of year the sun is late hitting my property. It was about 2:00pm before it was high enough to keep me warm (that's just past the power pole). I worked on pulling plants until my hose thawed at 11:45am.
That's when I set to tackling this mess. My goal was to get the leaves out. I know that more will blow in, but at least there won't be so many in the Spring. Under the leaves is green slime. When it gets cooler and no one was swimming anymore we quit treating the water so lots of algae grew. The entire thing needed pressure washed.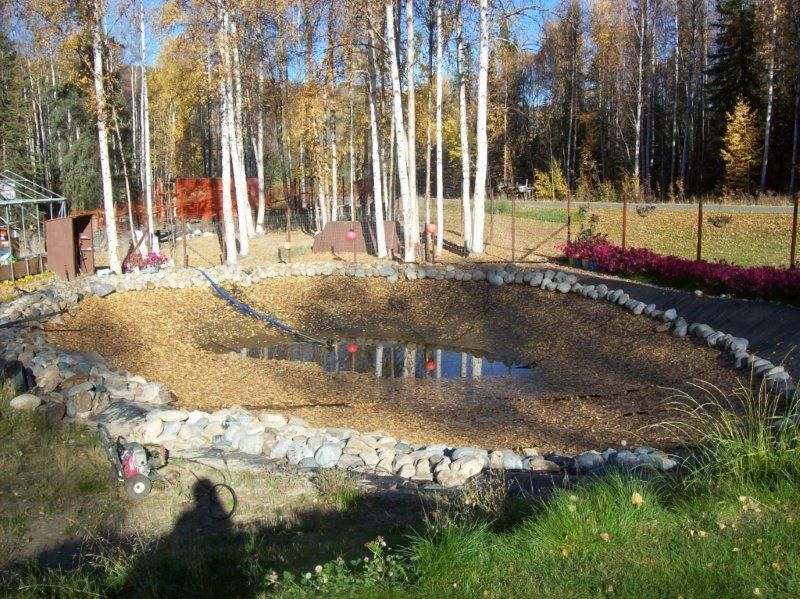 It really doesn't matter that it is rubber and we don't have snakes in Alaska, it still startled me.
It took 3.5 solid hours of pressure washing to get all the way around. Then I spent 3 more hours packing the leaves in a 5-gallon bucket out of the pool to the trailer. (You know this if you read the post below).
This photo is from this morning. Doesn't it look like winter? I got most of it done. There was a couple inches of water/sludge that didn't get pumped out, but I'm okay with that. It all has to be rewashed, but spending one day now will save me three days in the Spring.
Today's work is to blow the leaves at the end of the pond and around the greenhouse, mow the leaves in the ditch and on the corner, pull dead plants and dig up 200 bulbs. Emily said she'd give me a hand when she got home from school. :)
I took this at 7:30am. Yes, only 23*! I checked a second thermometer and they read the same. Funny though...yesterday it was windy and I was miserable. This morning it was calm, I was running around in a t-shirt and it felt refreshing. Maybe it's just having the weight of the full pond off my shoulders.