Friday Olivia picked some carrots from the garden. These are
fingerling's
. She loves to help with the harvesting.
Saturday Elijah had a football game against
Nikiski
. The head coach is moose hunting so the assistant coach changed things up. For the last four games he was a starter and played a lot. This game he hardly left the sidelines. We lost 51-12.
Sunday Lucas and Olivia harvested the rest of the green onions as well as the red and white onions. They are awesome little helpers getting ready for winter.
Sunday I ran errands with Olivia, Lucas, Nick and Elijah. I remember now why I don't shop with everyone at once! We stopped at the feed store and saw this huge pumpkin! Next we stopped to see the geese and cranes in Creamer's Field. Afterwards I took the kids to get a little bit of school clothes and shoes. From the lack of photos you can tell just how stressful the
outing
was!
LOL
Monday I cleaned the sheep and chicken pens. I really wish I had a truck so I could pick up my own sawdust. I'd like to sprinkle it around the chicken pen. Wet sawdust has to be better than mud!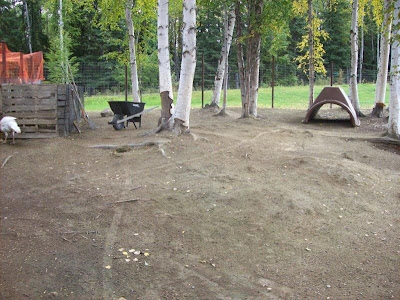 Millie came out to help and was very interested in the birds until Rupert flapped his wings and scared her.
The cranes were flying overhead and I'm pretty sure they were telling me to work a little harder 'cause the snow is coming.
What a walk. Millie wasn't sure about Daisy and wouldn't walk next to her. Daisy did not like Millie and if she got too close would refuse to budge. We spent a lot of the time dragging the both of them.
It's a blurry photo, but there are a ton of cranberries this year. Just waiting for the first official frost to go and pick them. When we got home the little ones went swimming. They are nuts. It gets down to 40 at night, 60's in the day and has been raining most of the time. I am sure the water was freezing. They are so tough!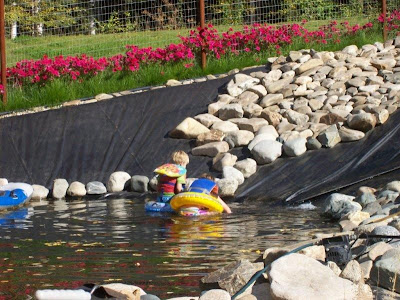 I can't believe there are beans on the vine. They took all summer to decide to grow and I really thought it was too late to get anything. The multi-headed sunflower randomly growing in the greenhouse bed finally bloomed. I wonder if the other heads will get a chance? I read that the black sunflower seeds (that I feed the birds) come from wild sunflowers which have multiple heads. They can have 20 or more flowers on one stalk! Did you know Kansas is one of the biggest sunflower growing states? They have so many they consider them a problem weed.
A little more yellow each day.
Homer is insulating the floor to the chicken coop. This was on Monday. Tuesday night he finished the frame and foam. Next will be to sheet it with plywood.
This entire last week has been a stressful, worrisome week for our family. We've had to make some tough decisions and that is never fun. On Tuesday morning we took Elijah and Olivia out of private school and enrolled them in public school. Elijah will not be able to finish his football season. As difficult as it is I know it is best for our family, but I was just sick about it all. At 6:30 in the morning I walked outside to the most brilliant pink sky. When I came around the house I witnessed the most perfect rainbow. It was a sign from the Heavens that we are doing the right thing. I was instantly calm. It was a full day of filing out paperwork and getting classes lined up, but we survived. Elijah was able to attend two classes yesterday and Olivia will have her "new" first day of Kindergarten today. Everything is gonna be alright.