Cooling temperatures. Less daylight. Constant rain.
All the signs of our very short Fall season. Not my favorite. In fact, I would have to say worse than winter. Winter is cold, but it is dry. I do not like wet feet. Or feeling damp. Or being cold. Or seeing Summer fade away. Fast! I've never understood the love of Fall.
If you look above the orange bird netting you can see the dense fog. Such a damp day. It was still this foggy at 12:33pm!
The sad state of my flower pots. I cannot even begin to lift these...they are far bigger than I think the photo lets on. I will have to get the boys to gather them up for me (about ten) so we can dump the dirt. I like to mix this old dirt with my new dirt and added compost so it will be a better planter next summer.
I love sunflowers. I always have. In fact, I used to decorate my kitchen in them. After the "Cow Era". I sh-udder to think of it! I am just amazed at the size of these flowers and the fact that they are just randomly growing around my yard. I have a goal of 100 bloomed sunflower heads in my yard next summer. (Gives me something to work for). I'm also setting some vegetable goals and doing my research. I'll share that another day.
I am not sure Daisy is willingly sharing her food, but sharing they are.
After adding those few rocks back in the Spring, we never hauled a single thing all summer. That totally bums me out and makes me want to do it right now, but that would be silly. There are a million other things that need to be completed before the snow falls. Guess we'll work at it next summer.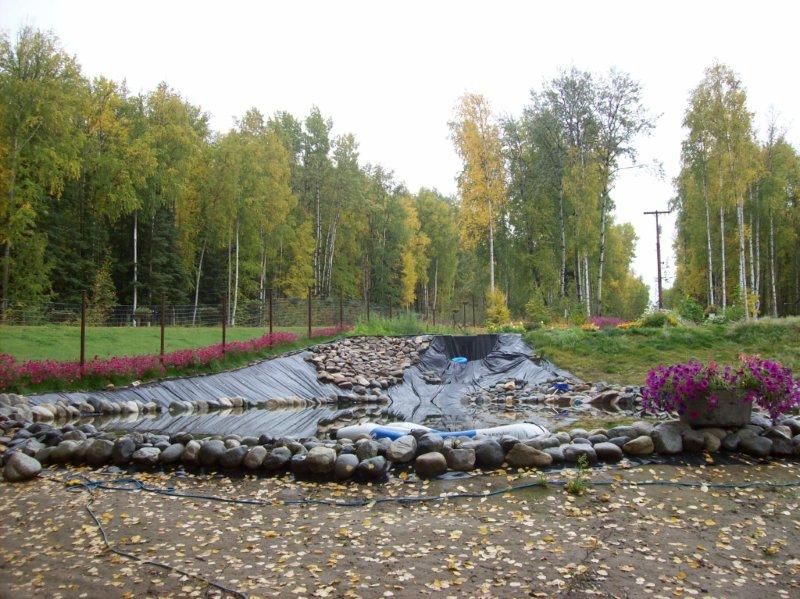 I think those trees have more yellow than the last post. What do you think?
This is my biggest sunflower. I'm guessing it at around 7 feet. I'll see if I can measure it tomorrow.
As I always say...I do not care for the damp cold. It was 54* and raining today. In May that would me "almost summer". Now it just means "almost winter". I would rather do anything than go outside, but who is going to clean up this mess. (And really, the photo looks good. I pulled 30 hot wheels out of the dirt. There is so much this photo isn't really showing). Anyhow, I made myself go out and round up toys for an hour from around the yard. I hosed them off and then when the boys got home I had them store everything for the winter. Their everything and my everything are two different
every thing's
, but at least they helped.
Yes, Rupert is on top of the netting.
No, I do not know how or why.
Yes, I got him down safely.
No, the net did not go damage free.
We may have to double that stuff up.
Damn turkey.