Thursday night we rolled out of town sometime after 7:00pm arriving into
Wasilla
over 300 miles later in the dark of night. Spent forever looking for the campground and once we found it it was so dark we couldn't find a camp site. We went back to the
Walmart
parking lot and in true redneck fashion set up our tent next to some really fancy
motor homes
. At 8:00am we broke down our tent, grabbed some muffins in the store and took Nick to the
skate park
. After two passes he declared it was too early, too cold and all he wanted to do was get into the truck and sleep.
When we hit the traffic of Anchorage it was raining and it continued to rain all the way to Seward.
We spotted a mountain goat and stopped for a few photos since we were way ahead of schedule. Game time wasn't until 5:30pm.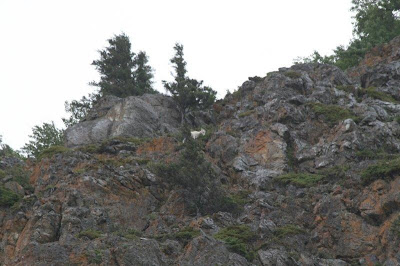 Lunch was at Apollo's in Seward. It was a Greek Restaurant and I had a wonderful gyro and Nick a burger. After lunch we went for a walk. When was the last time you've seen a phone booth?
We found a place to get Nick a haircut. He's been growing it out to get
dreadlocks
and couldn't take it anymore. I seriously could not live in a place where the only thing you can grow is moss on your roof. Some tried to grow flowers, but they were sad. It pretty much rains all the time.
A local taxi that said
Quacker
Jack on the back.
Hmmmm
. We killed of the last couple hours until game time shooting pool.
There was a huge cruise ship at the docks and tourists everywhere.
Before the game there was a dedication ceremony for the athletic director who passed away in July.
Elijah's first tackle of his high school career. Not technically perfect, but it got the job done.
Elijah is #12 (to the far left) and one of the taller kids on the team. He's 5'11.5" (we call it 6') and 166 pounds. It was obvious by the end of the game some weight lifting in the off-season would have been helpful as well as a few more pounds. Something to work on next year. (Check out the guy in hip waders running the chains. Can you tell this is a fishing town?)
This is only the 3rd season for Monroe Catholic to have a football team and it is the first year they have had cheerleaders. They did a great job.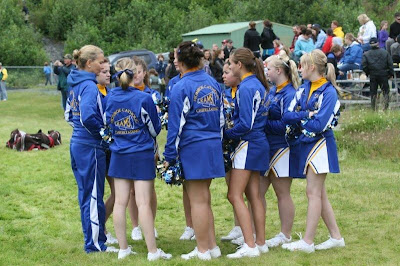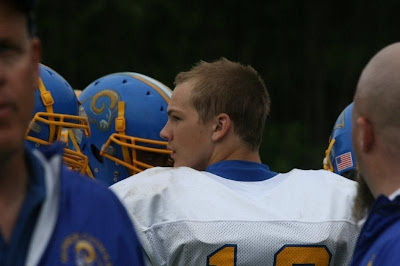 How's that backdrop for the scoreboard? Not such a great game for us, but I still enjoyed watching my son play.
We camped at the city run campground right in town, but I forgot to take photos. Now I know why people pay $25 a tent site in a privately run campground rather than $10 in a public campground: because the noise level is controlled by the owners. People are rude. Pitch black dark at 1:00-2:00am and they are yapping around camp fires playing loud music. I must be getting old because I don't have a lot of tolerance for that crap anymore. I just wanted to sleep. Breakfast was a buffet that was okay. Afterwards we took a stroll down on the docks.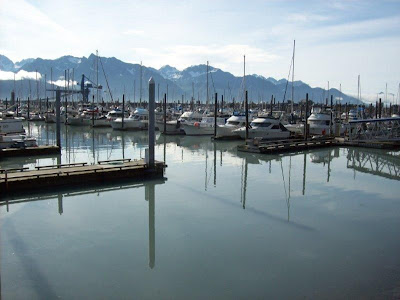 This playground was near our camp site. It is the biggest and nicest one I've ever seen. Olivia and Lucas would have loved it.
Now that is a skate park with a view!
We stopped in downtown Anchorage because I wanted to look at the flowers. This is a view from the top of the parking garage.
Lunch was at
Humpy's
. They have a large menu with great food and famously have 56 beers on tap that are constantly changing. After lunch we walked around town. Can someone tell me, are those begonias? I love the color and am looking for different things for my own gardens.
How about this huge green plant? It would be a nice filler in a corner bed. There was the annual Irish Summer Festival going on and we ran into some people we knew.
Between Anchorage and
Wasilla
we were slowed to a crawl. The traffic must have been backed up for two miles and it all funnelled into one lane due to road construction. Nick was a rock star. He drove from the parking garage to our yard. It was 360 miles and we didn't pull in until 2:45am.
Now we are home after two days of slacking. Time for me to get to work!