Back home and exhausted, but still eager to get to work. The sun was out and it was promising to be a beautiful day. After feeding time I laid out the tent to dry. On the drive I made three hats for the boys.
Elijah brought me a trailer load of wood to split (with my electric splitter) before he and his brother split for town. Nick went to skateboard and Elijah to the fair. Wish I was a kid again! :) Olivia picked some onions, carrots and peas for snack time.
Every time
I look at the broccoli I get mad. Great big plants,
itty
bitty broccoli that is already seeding out.
I decided to give up and get a
head start
on cleaning beds. This is my total crop for the year. Two years ago the broccoli was in a different bed that was only part sun as compared to full sun. Obviously that was best because I grew more than we could eat in that bed. This was supposed to be a second crop of spinach, but it bolted right after sprouting. Ripped all that out, too.
Apparently Daisy hasn't been fulfilling her mowing contract. She'd better get busy or she's fired! What a mess! We stocked piled some semi-rotten wood (not the best, but it is free and still burns) here until we had a better place. I don't have a better place, but I want to clean this up. There are still trees down that I'm hoping Nick will come home and cut up today.
Or not.
Anyhow, this is where the pig pen will be. I want to get this cleaned up and the posts in the ground before winter. There are more days of work out there than there are days, but I'll try.
Found some currents, but not enough to make anything so I just ate them. :) I love the extreme sour taste.
Awww
, a heart mushroom.
I hauled over the last of the wood that was already split and stacked it. Then I brought over another load, split and stacked it. What a slow process. The wood splitter takes so much time, but my back cannot swing an axe so this is the way it shall be.
Homer took out the door and jam. I'm standing in what used to be the garage where my temporary kitchen is that we are making the eventual living room. I am looking into the room that will be the kitchen/dining room. That is where my grow room and the bathroom are as well. The door was taken to the other end of the "garage-living room" and swapped with a door that had a window.
The door jam and door went out to the chicken coop.
You have to do a little visualization. There will be stairs for me and then another little door and ramp for the chickens. The outside will be covered in a pale yellowish steel siding. I'm not sure why the previous owners painted all the doors purple, but I'll probably paint it brown to match Daisy's house. The inside will be insulated and completely covered in linoleum for easy cleaning. There will be a heater, water and food storage. It will be a deluxe chicken house when it is done.
How can one sheep be so messy? There are still dirt clumps all over the pen. I really thought they'd break up from her walking on them, but instead I had to get to work with a shovel and rake. I was so exhausted, but determined.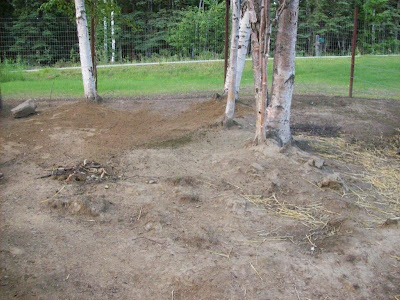 Daisy twisted her knee earlier this summer on one of the clumps in a bounding spree. I'd really like it to be more level, but at least it is rolling bumps now and she shouldn't get hurt. I'm torn between planting grass and leaving it. She is constantly a state of brown and grass would keep her clean. On-the-other-hand I can rake this and put it in my compost. I can't really rake grass.
These two really entertain each other while we are working. I'm so glad they are so comfortable in the animal pens. They made a game out of sliding down Daisy's house.
I also spent a ton of time working the compost bins. I took the first one and half the second and mixed it with my dirt pile. I still need to add the rest of the second bin. I'll store this dirt in a barrel in my grow room for next spring. This year I spent about $250 on potting soil and that is just too much money. I then started a new pile in the first bin. The third and fourth bins will be what I mulch with next year. The last bin is going into the gardens when I clean them out and what I clean out will fill that bin. I really could use five more. I getting this composting thing down (finally). Oh, and the worms? They are in a tub in my grow room happily eating our kitchen scraps. They've really multiplied and would easily make 3 or 4 bins, but do I really want that many?
Every morning Rupert leads the
Congo
line up and down the fence doing a dance for breakfast. He is a gluten and my feed cost is too high (about $80 a month). So much for his lifetime
reprieve
. He'll be Thanksgiving dinner for sure.
Finally as winter approaches the dahlia's are taking off. Wish they could have been like this all summer.
The peach ones in the second photo are all on one plant. That's the one that had 24 buds on it.
Out of 100 bulbs I have 3 that are going to bloom, but even they look kind of sad. Just too wet of a year for glads.
Petunias gone wild!
I am so pleased with the impatiens now. Both beds are just overflowing.
The Painted Daisy's are about 3 ft. tall and with the rain have fallen over. Another job I don't need.
My "dinner plate dahlia" really didn't get big because I never got them outside until mid-summer, they weren't staked for the longest time and they should be in a bed not pots. But it still has some pretty flowers. I have given up on keeping the petunias on the right side of the fence. What a lot of work that has become.
Okay. I have the same pounding headache that I had all day yesterday. It has slowed my morning to the point it is afternoon and nothing (except for animal care) has been done. Time to get moving even if I don't want to!