I neglected to get "1st Day of School" photos which is a bummer because it was the only day of the year that all four got up at the same time because we drove. First time in 13 years I've forgotten. Now they are on the bus and have random starting times. Nick's changes: 8:50, 9:12, 8:30, 7:50 and 8:50am. Good thing he drives because the bus would get him to school at 7:30am and he'd have a lot of sit around time. Emily catches the bus at 8:10am and starts at 8:50am. Olivia and Elijah start at 8:00am although they get on the bus at 6:47am! It's a full-time job just getting them out the door at the right times!
Here's my Nick in his Senior year.
iPod
in his ear, skate shoes and a flannel. Very much my son....comfortable and himself. No worries about being
GQ
.
I couldn't get a photo without the silly raised eyebrows. He's kind of a grumpy one in the mornings. Yes, he's wearing slippers to school. Elijah likes to express himself and he used to do that wearing white, purple or yellow pants, but that isn't allowed at his private school. This is his way of being "different".
Olivia wakes up crying and/or whimpering for the first ten minutes every day. She's a sleeper and does not want to get up. That's her school uniform that I wash every night and alternate with a pair of pants. I need to buy her a couple more shirts. She can wear red, light pink and white also.
Lucas is the happiest in the mornings. He wants to go to school so bad, but it's an expense that will have to wait. Besides I am enjoying being alone with him all day. Emily was at her Dad's house so her photos will be taken this week.
Why is it when I go to the feed store I forget to ask the boys to unload for me? My back really doesn't like 50lb feed bags. Another random petunia growing in the gravel among weeds. Those things have reseeded all over my yard.
Lucas was showing me he could jump like a frog.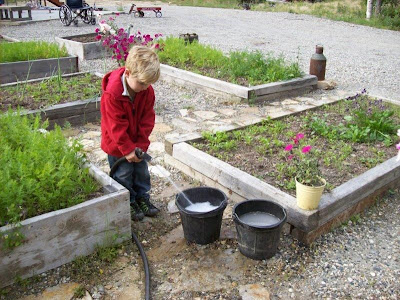 I spent a couple hours zip-tying the netting down all around the pen and down the centers where the three pieces meet. Now all that is left is adding some chicken wire around the gate and maybe I can keep the curious from escaping. I'm having tremendous foot pain and haven't accomplished much the last few days and really need to before winter. Walking has been very difficult.
Nick got the Grand Slam for breakfast. One of the perks of waking up after Mom has got to have some coffee. There's his pile 'o crap from his room. I asked him to put it away and after 10 minutes he announced that he didn't want any of it.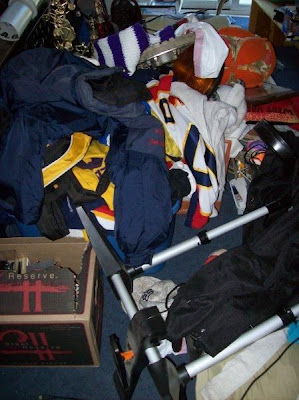 Now I'm going through it. That's 50 t-shirts and jersey's from over the years. I can't part with them just yet so they are all going into a tote. The big spider shirt was his favorite for years and when he got too big for it he would wear it around his waist or on his head. I can still see my little man with his chubby cheeks having big adventures in that shirt.
Can you see the mountains in the distance? They are covered in a smokey haze. We still have a few forest fires burning and sometimes the winds bring the smoke in to town.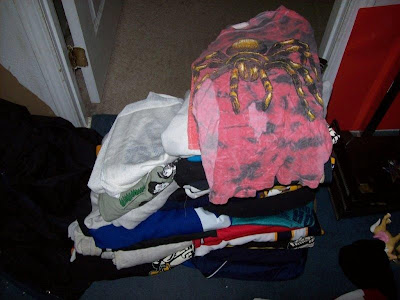 This little guy isn't feeling so good. He's got a icky nose, slight cough, slight fever and is just tired. He spends most of his time right there resting or sleeping. He gets up in spurts, but runs out of energy quickly.
I wonder which child sat and tied all these cords into dozens of knots. After quite a while I finally got Nick's blinds back up in his room.
See that? The leaves are slowly turning yellow. Won't be long now before they are falling everywhere and I am scooping them up for the compost bins.
That is my pony tail. Homer cut it off the other night and I'm sending it to Locks of Love. I haven't had a haircut in two years. It is time.
I love Livingstone Daisies and hope to plant a lot more next year. The first photo is Tuesday and the second is Wednesday. Apparently, 40 degrees does not agree with them.
I've been duped. I didn't realize the chickens I was getting from down the road were so old. Out of ten hens I should be getting 7-8 eggs per day. I am getting 1 or 2. Come to find out they are 2-4 years old. Layers do good from 5 months to 2 years and then it drops off. Not only are they unfriendly, still naked and ugly, but they are costing me a ton in food and not giving eggs. I'll see if she wants them back, but they are gone either way.
My bird seed has now grown three sunflowers!
Another dropped seed growing in the onions.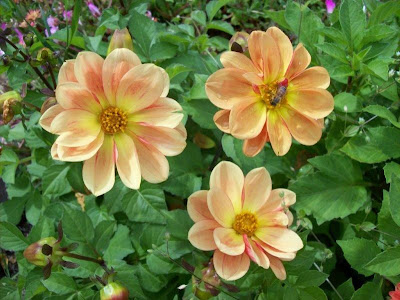 Nick is 6 foot tall so the sunflower is about 7 feet. I wonder if it is going to open before it snows?
A couple glads are trying to bloom, but they look awful. Too wet? Too cold? They are just nasty. I think next summer I will put them in the bed by the greenhouse where they are sheltered and get heat off the building. If they don't do well then I will quit growing them.
I have some flowers here and there that are dying and need pulled. Hard to believe it won't be long and this will all be gone. Kind of a sad time of year for me.