The Monroe Rams hosted the Delta Huskies Saturday at 1:00pm The weather cooperated and was quite sunny. Elijah is #12 in the lower left corner. He almost caught the bobbled ball, but it finally juggled out of his hands, too.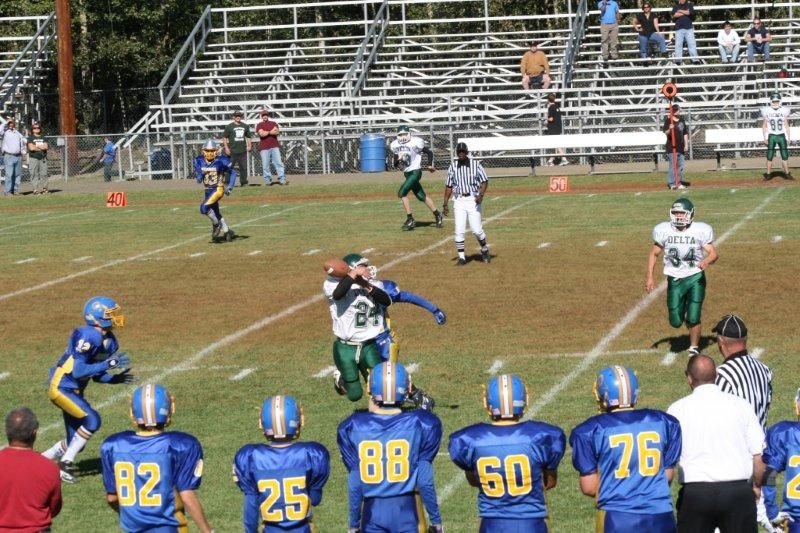 We were up 7-0 then with 4 minutes left in the 2
nd
when there was an interception thrown and we went down 8-7 going into half time. Our boys didn't give up though and in the 3rd the game was tied 14-14. We finally pulled ahead and won 28-14. With about 1:30 left in the game Elijah got to go in and play quarterback (he plays defensive corner, special teams, very little offensive line and back-up qb). That was so cool. He only got 3 plays...one hand-off, one incomplete pass and one completed pass. Then time ran out. The Rams got their first win of the season. We are now 1-1 in our conference and 1-2 overall.
Nick stayed home with the little ones. When I got home they wanted to swim. The water is pretty chilly (it gets down to low 40's at night), but they went for it anyhow.
Ummm
, hello? Millie you wouldn't be chewing on a life jacket, would you?
Who me? I'm completely innocent.
No to the boots as well dear.
They wanted their photo taken because as Olivia said, "I am beautiful and Lucas is handsome". Yes, they are.
He won't be able to do that much longer.
These sunflowers are from seeds that fell out of the feeder next to Homer's welder. I can't believe one bloomed!
Last night we had Elijah's friends Tyler,
Miaya
and Jackie spend the night. Yes, two are girls. Yes, we have other rooms for them to stay in. Tyler's parents and one brother also came over and we had a fire until late into the night. It was a really good time, but needless to say it was a very laid back day. My only accomplishments were to mow the lawn and take Olivia to get gym shoes because she has her first day of Kindergarten tomorrow.
Today was Homer's 48
th
birthday. I made him spinach and
Parmesan
baked tomatoes, steak, corn on the cob, baked potato and shrimp (there were a lot more shrimp than you see here). I wanted to have a big birthday
bbq
with all our friends to celebrate, but it just isn't something we can afford. There's a multitude of
bogus
reasons that I won't get in to, but life has become a struggle to just survive. I know it is the same for many people across this country so I try not to become frustrated, but that isn't always easy.
Olivia is tucked into bed. I don't believe she has ever gone to bed at 8:00 at night, but morning will be here soon. The boys and I are going to watch a movie with Dad, and then head to sleep ourselves. Hope you had an enjoyable weekend.