Friday morning the sun was shining and I headed out to the animals and garden as my usual morning routine. I realized I hadn't been dead-heading my petunias which in previous years I've been very adamant about doing.
I decided to enlist a couple of helpers. Now if I can get them to do it all on their own.
When Emily and I were taking care of Andrew's dogs (we haven't heard from him in several days) the puppies escaped. It was pretty funny.
This little girl spent some extra time with us and was taken out to meet the chickens.
The peas are done. Nothing new is going to grow and the plants are dying. Time to pick and clean out beds. Not really sure why the beans waited until August to grow, but there isn't enough growing season left for it to do any good.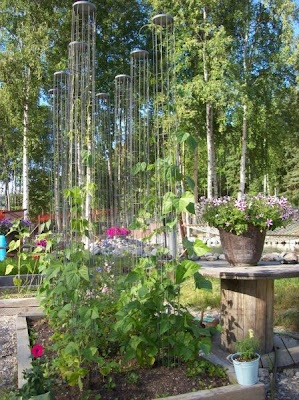 There have been some odd shaped carrots. I don't even think Lucas eats them. He just likes picking them!
At noon on Saturday Elijah had a football game against Valdez. Nick was the best son ever and covered the concession stand the first half of the game so Homer and I could watch the game. Elijah is in blue making the tackle. We sure are proud parents. He's a great kid.
When we got home the keys got locked in the van. The boys needed the van to go to the fair since Nick's battery was dead. Nick was successful gaining entry, but later I realized it was unnecessary. The spare key was on top of the microwave. That's about par for the course around here.
Look at Rupert. He's getting his big boy colors.
Ug
! That pen looks awful. I would like to rake it every day as the mess really irritates me, but we ended up down at the neighbors and it didn't get done.
If you look close you can see the puppy now has a collar. Yes, I know, I said we weren't keeping one of the puppies. I'm not, but Homer is. :) Her name is Millie.
Homer and Lucas rode the motorcycle and Olivia, Millie and I rode the 4-wheeler down to the neighbors (Emily was with a friend). Millie got packed everywhere and the kids had a great time rolling down the hill.
Sunday was abnormally beautiful. Fairbanks set a record with 91* at the airport. Our average temperature this time of year is 67* so this was a welcomed surprise after such a dismal summer.
I'm trying to incorporate the dogs into my routine. I figure if Lori at the
Skoog
Farm (see side bar) can cart cats out to the barn twice a day in a kennel I can, too. Roxie went out to help me clean the chicken pen.
Now that is more like it!
Rusty came out to help clean the sheep pen. He's a bit of a pain. He's five and a stubborn dachshund. They like to pretend they are deaf and don't even look back as you are calling to them. I finally caught the little guy and carried him out to the pen.
I got Daisy's pen spiffed up and sure was a sweaty mess when I was done. It might have been a tad too warm for this kind of work! I added one of the compost bins to my dirt pile and have another ready to go in the garden beds. Watered the other three.
The kids and I took Daisy for a walk. She walks better than all our dogs!
I cleaned my tool she and then it was time to sit and work as it was so hot. Olivia and I picked all the peas and pulled the plants.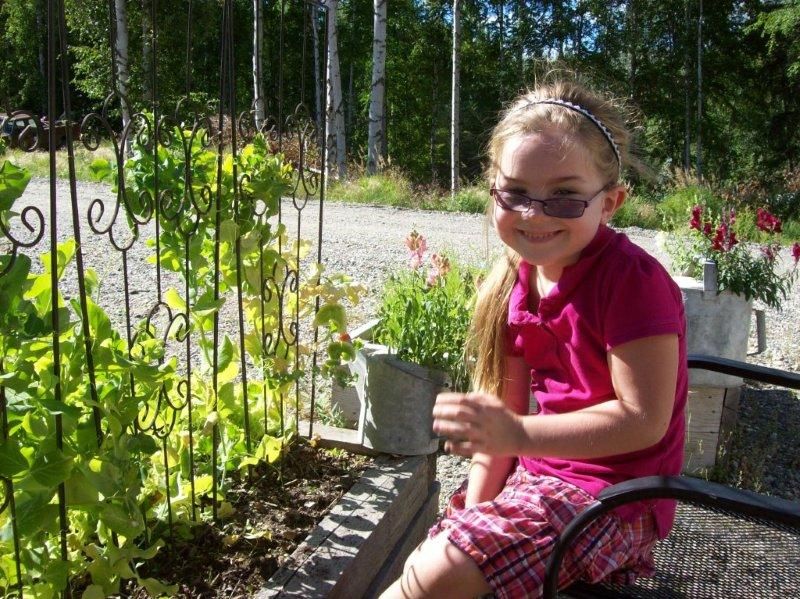 Then I ran the weed whacker and mowed the front yard. I was melting!
I love the bright colors of the Livingstone Daisies.
Of course, I took a bunch of shots of the Dahlia's now that they are finally blooming.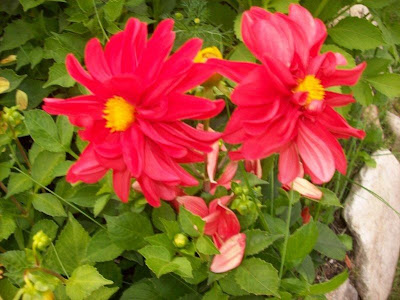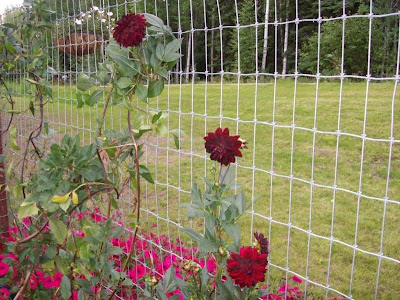 Nick and I ran down to the neighbors with a couple of vases of flowers for their table. Rick, Mary and Katie are some of the nicest people I've ever met and I am so glad we have gotten to know them. Mary took Nick and let him drive the Rhino (big two-seat 4-wheeler). He loved it. When we got home there were a bunch of kids swimming in the pool. Emily had a friend spend the night and another neighbor stopped by with his two kids. I never did get out my camera, but we roasted hot dogs and set of fireworks after dark. Nice end to a beautiful day.