Friday? Really? That was the last time I blogged? Well, just so you know, I blog in my head all day long, I just don't sit down and do it like I want to. It's a long post...I hope you have time to read along.
Sooo
...this kid came home hot and sweaty and demanded to be taken to the barber. He's had that long blond hair for the last four years. I was in shock! (Now I'm used to it and his basketball coach saw it and was very happy.
Except for the earring
.).
Saturday my
bestest
bud
ever
left for skateboard camp in Pennsylvania. I really
really
miss him. Saturday was also the wedding of my dear friend Sheila to her love Bo. We had too much fun.
For several days this is all these two did. Problem is they go in and out and leave wet clothes hidden all over the house. No kidding. Monday I did seven loads of laundry. I'm not done. I'm kind of glad it rained today.
I weeded A LOT and never did finish. In this bed the weeds were taller than the glads and it was full. How does that happen? Along the edges of the rock I found petunias. These are reseeding themselves from last year.
Ummm
, I thought petunias were annuals especially in our winter temperatures.
See the light purple in my fence bed. I planted 98 petunias down the fence and apparently screwed up more tags that I thought. Look...there's a bed of the right color.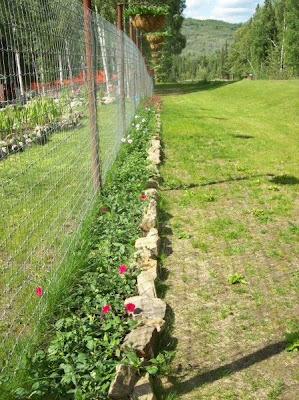 I couldn't take it and transplanted ten plants. I may need to do a couple more, but won't know until they bloom. It would have driven me crazy. I'm pretty bummed about the size of all the plants and the lack of flowers. Too much rain this summer. Unfortunately, I did all this work for lousy production...it will snow before they get where they should be right now. Oh, well. There is always next year. It's all about the process for me.
These Striped Marvel Marigolds have turned into quite a hedge of flowers. I just can't believe their size and output.
I planted some
perennials
that I got cheap at Lowe's ($3.33 each). They are supposed to be good to -40 and -50.
We'll see.
I'd like the fill in the back of the bed with iris'. They can bloom early and leave a nice leafy border by the pool. Finally, got a decent Dahlia. So many buds; so little sun.
While Nick is away I am painting his room the way he wants it (so maybe he really won't move out next year :) Wait until you see; it's going to be wild. He was supposed to pack things up before he left, but he didn't get far. I've been working hard between gardening, animals and remodelling.
The room is empty (oh, was that bed a lot of work to move!). I am washing and we have some patching to do. Painting on Friday and Saturday then he is home Sunday night. He wants a new shag carpet, but that isn't in the budget
yet.
Elijah's room is still waiting for
Sheetrock
and is always a mess. He actually picked up this time (with
Prakash's
help!). We are always changing the plans. Now this room will actually become Lucas'.
My room is always a mess. Pick it up and go for the vacuum. See what happens? I can't keep up with those two little Gremlins. Now this room has the bed from Nick's room, and Elijah got my new King size bed (it hurts Dad's back). I'm going to miss my new bed. Now we are back to the double until we try another one.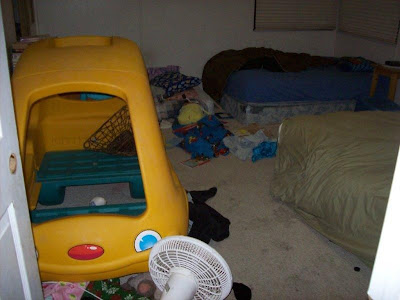 I clean it. They dump it out. How can we ever build walls and paint in this mess??? This time I got all the toys stored so they can't get them back out. Might have a fighting chance to finish our work.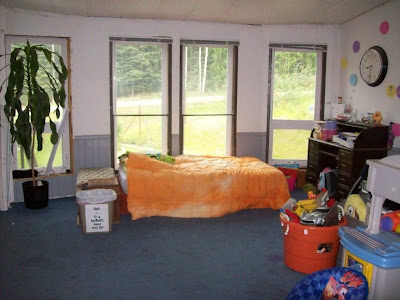 Dad set to work tearing out the old kitchen. This is where Elijah's bedroom is going to be. It will be a lot bigger than the other room. Such a mess and so much work. My poor husband works six days a week. He does what he can from 7-10 at night and on Sunday's. I try to do what I can during the day while taking care of five kids. It's been quite a project, but at least we are doing it together.
All Emily had to do before her camp was clean this closet space. This is her idea of clean. (She likes to hide stuff; it's disgusting). I cleaned it up and put Nick's clothes out here for right now. Eventually this will be a storage closet for winter gear. I can't wait to paint and put down tile. Again...remodelling sucks...spending time with my husband and kids building something is good.
Oh, did I say camp? I was able to get Emily into
Shen
Bible Camp down near
Tok (200 miles away)
.
Tok
is where I grew up and I went to this camp when I was a kid. She'll have the best memories. Here she is (in red) walking the mile into camp through the bogs. She is with her cousins
Justise
and
Jadyn
. In the second photo she is in the yellow life jacket. My 6
th
(and 8
th
) grade teacher has been sending me lots of photos everyday. She'll be home on Friday night and I can't wait to hear all about her adventures. (It's the first time she's done anything like this...she hasn't even been to a day camp let alone spend a week from home!).
Well, there you have it. We've hauled out 3 truckloads of kitchen cabinets and 8 bags of trash. We've weeded, watered, cleaned, partied at a wedding....done so much in the last few days. It's just plain exhausting!! :)