Started Nick's room off with primer. I wonder if the walls were really that dirty or if we painted it an off-white? It took a day to clean the room out and another day to do the prep work (taping, plastic, etc). I was tired before I even started. Naturally, I over-filled the tray.
A painter I am not.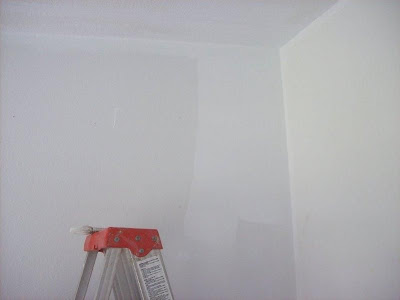 Getting the job over and done with was what was on my mind.
My helper had other plans.
After an entire day all four walls and the ceiling were covered in primer. I wonder how much easier this would have been without having to stop over and over and over to care for a four and five-year old?
Thank goodness for thousands of
Legos
. This entertained them quite a bit. Really? Could someone do something with that girls hair?
Next up was
two coats
of the Limeade. Again, I found this to be just a lot of work and not a lot of fun. All across the country houses are being remodelled OUT of the 70's. We're remodelling TO the 70's.
Hmmmm
. Things need to dry a few days and then I'll finish up. The wall to the right will be
Lakers
purple. The green will get purple stripes. He wants orange shag carpet. This just screams Austin Powers. Or Batman's Joker. Whichever you prefer. The bottom line is my son is happy to create (or have his mom create) his own space. After all, it's just paint.
Big huge rain storm. Children. Mud. Started my Sunday off washing the old truck. Then I split two trailers of wood. I'm starting to get that panic feeling about winter arriving and me not being ready. Happens to me every year.
And we're never ready.
I also raked the chicken yard and put out fresh straw, but forgot the camera. Can't wait for them to start laying fresh eggs. I did take a few photos of flowers in between the rain last night. It's been raining so long now I have forgotten what the sun feels like. It's been a very disappointing year for flowers, but I guess that's the breaks of gardening.
This is the only Dahlia in bloom. One plant has 14 buds on it (and I have about 100 plants), but without sun and warmth I'm never going to see them.
Last summer at this time the flowers in these pots were to the ground. Barely anything this year. There's
Lukey
with his cheesy grin. Even when I do pull her hair up it falls right back down. Long, fine and impossible to make look good.
The Tidal Wave Petunias along the ditch are blooming pretty good. Not as thick as they should be, but they have filled in the bed. It looks so much better in person. Hard to get a good shot of something 100 feet long! The hanging baskets are just sad. Almost all of them have a few flowers, but they should be hanging down long. Last year I planted them too late and they were awful. This year I have no sun and they are awful. Maybe next year I'll grow a different kind of flower in there.
Well, again I have procrastinated half the day away. I'm tired. There's always so much to do, and I'm just tired. Things are quieter around here. Roscoe and Sally have gone to new homes. I am putting in too much time caring for another eight dogs that are not mine. Looking forward to the puppies growing up and going to new homes. Is it really another 5.5 weeks? To only have Rusty and Roxie will be a piece of cake, and maybe I'll start liking dogs again. Somehow I find myself loving chickens more and more everyday. They aren't so loud.
My husband has gotten the last of the cabinets gutted out of the upstairs kitchen. Nick and I are supposed to be doing clean-up. Did I mention that I'm tired? I would like to split some more wood as well. It isn't go to dry otherwise. Oh, and I have to wash football gear. Elijah has practice from 5:50-8:30 tonight....27 miles from my house at North Pole High School. In fact, I have to drive out there all week, and I might as well sit there to save gas. *sigh* Nick has soccer at 6:00 tonight. Next week starts football two-a-days for both of them. Elijah has to be at the field at 9:00am everyday until 5:00pm each night. Nick's will be about the same. I have so much to do at home before winter settles in and here come the sports. *another big sigh*
I'd better get moving!