After 19 years living in Fairbanks one would think I would remember that the Golden Days Parade starts at 10am not noon. When I realized it we flew out the door as evidenced by Olivia's hair. I really need a grandma around to take care of that! We made it to the end of the parade route at 11:15 and only missed the fire trucks and two floats. I was relieved.
Of course, the memory card for the camera was at the house so I used my phone. I think the photos are just as good! The parade was a lot longer, but my phone went dead. Here's a sampling of what we saw. There were a ton of politicians, but I only took a photo of Lisa
Murkowski
for US Senator. The kids got a little bit of candy, and as my luck would have it I sat next to a split-personality neurotic woman and her extremely patient husband. Thousands of people and I get her...why? She went from talking to laughing to crying about her arm pain to talking....etc all in the same minute.
For two hours.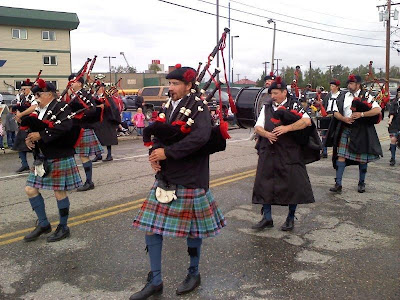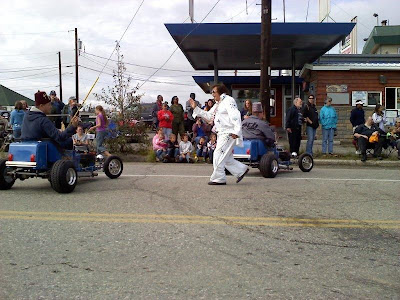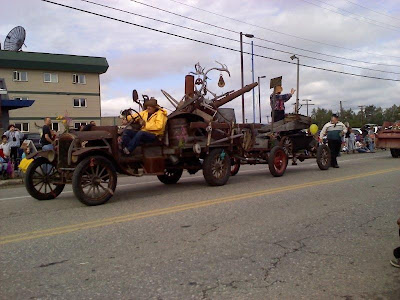 When I got home everyone was very hungry. You know...
because we ran out the door
.
The grass on the edge of the pond was out-of-control and I couldn't take it anymore. I can't use the weed-whacker or it will all go in the pond so I spent several hours pulling it. Eventually the rocks will go to the fence and hide that pipe.
See the difference. This is half-way done. With the grass you can barely tell there are flowers from in the yard. Now I can enjoy them, too!
The Wee People did a lot of this while I worked. It also rained off and on, but I worked through it determined to finish.
Later we took Daisy for a walk. It calmed her down considerably. What's it look like at your house at 9:15pm? When we got back we made a fire and sat out there until almost midnight.
Sunday Mr. White and I began the day by reading the paper out by the pond. Nice way to start the day. After that he set me up a filter and I climbed in the pool to do some cleaning until it was time to go to a party.
Our neighbor set up a 100-foot
visqueen
slip 'n slide. Around 20 people took a run at it and there was another 15 who didn't. We had deep fried halibut, salads, cake, beer and martinis. It was quite a night! Lucas went around and around and around. He loved it!
I finally bribed Elijah into a few runs down the hill, but never did get Nick to go. There's Dave...this is his creation.
Then it was Monday.
Elijah had football practice from 9:00am until 5:00pm. I sat and watched a little in the afternoon. Truth be told if it were possible I would sit there all day. I enjoy watching even if he is just running! I don't think Olivia and Lucas would be much interested in 8 hours in the bleachers though.
Nick had to be down at the school at noon for photos and then practice from 2:00-8:00pm I was too lazy to get out of the car for a good photo when I picked him up, but there's the team. They have practice like this all week. Next weekend are the first games.