Wednesday night we brought the puppies in to get a good look at them all. Yes,
puppies are cute
.
No,
no matter how much you beg me I'm not keeping one. These will be big dogs. Big dogs leave big piles and I'm the only one doing the cleaning!! Look at the difference between the fattest pup and the runt.
My mornings begin with coffee and
facebook
. Once my brain is functioning I move on to this. I mix grains for Daisy and the chickens. When the chicken coop is finished all this will move inside and be a lot easier. I'll probably set it up the night before to make things smoother since I'm not much of a morning person. Look at all those chicks waiting for me.
We have not buttoned up all the escape holes. There are always several out in Daisy's pen, but they never go out of it into the yard which they could do if they tried.
Thursday I went down to Nick's high school with all five kids. We all took turns shagging the ball for him. He felt like doing some kicking. It was actually an hour of sun!
When we got home Emily rode the 4-wheeler around the yard while she waited to get picked up. She left today with her dad to Minnesota to visit Grandma Judy. I won't see her for three weeks. She's going to have so much fun, but I sure am going to miss her
a lot.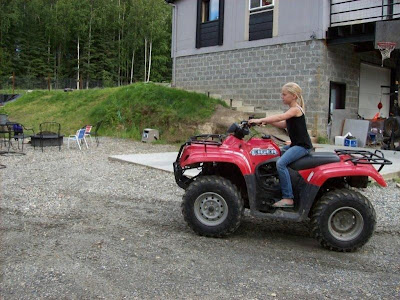 After she was gone we went to help our neighbor Mary celebrate her birthday. I took her a bowl full of lettuce, onions and carrots from the garden and one of my big pots of petunias for her yard. Walking out of the Golden Eagle at 11:15pm....all that light is what makes Alaskan summers so awesome!
These couple of photos are completely out of order. The other day I worked on pulling the grass growing in the petunias and pulling them back through the fence. What back-breaking work. That's a 100-foot bed!
I do all the mowing. I've had Elijah help with the corner one time and this was Nick's first time. I was very grateful for the help as I would never have finished before it was time to go to football and soccer. I never did make it all the way down the bed and need to get back out there and finish.
This is Daisy greeting me this morning. I'm not sure what is up with her. Tonight she was attacking Olivia, Lucas and myself. She was bounding all over the pen and trying to ram us. Not her normal behavior at all! She had a very wild look in her eyes. I sure hope she's settled down by morning.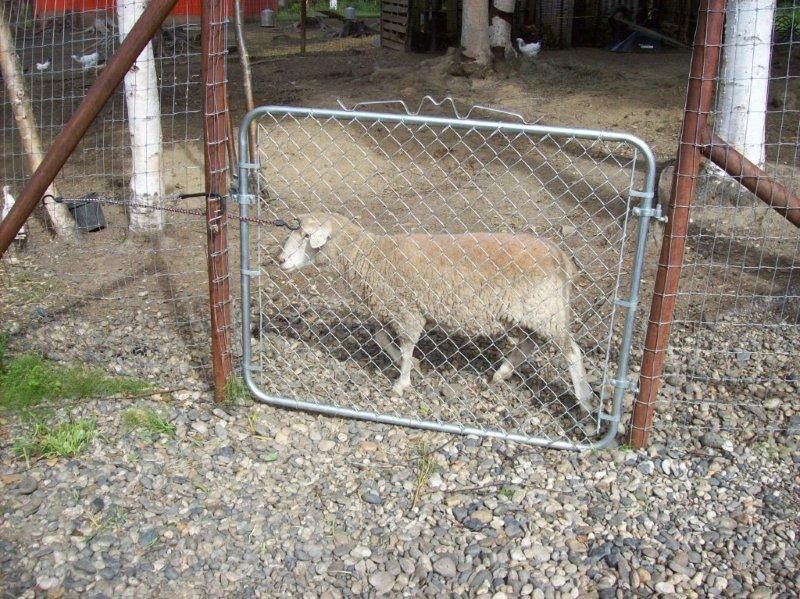 After I fed the animals I enjoyed my coffee and paper in the garden. So relaxing.
Lucas created a track for his scooter while I mowed the lawn. Where were the teenagers? Sitting on the couch playing X-box. I know. I know, but I do really like mowing. They did some other work for me later.
I've been neglecting my poor
Toro
. Today I got out my wire brush and cleaned it up. Now Dad can sharpen my blade for me.
What a jungle. There are so many areas of the property that have been neglected. Shoot...can't work all the time! I cleaned it up a bit and split (with my electric splitter) and stacked two more trailer loads of wood. The splitter is slow, but it sure saves my bad back.
I love a neatly mowed lawn. Two Everlastings opened. They are like
strawflowers
that I'll pick and save in some kind of glass jar. My mom always grew them, but this is my first time. I just love them.
A Painted Daisy finally opened, but it took a beating in the rain. I finally have two dahlias at once. :)
Here's the carrots we've been eating. I'm sure they would get bigger, but it's nice to enjoy a few each day. It's been raining so much I can't fertilize my flowers so tonight I took my worm casings (poop) and put it each of my hanging baskets and pots. Now the rain can do the work.
The spinach bolted awhile ago and I just left the bed a mess. Tonight I finally cleaned it up and threw some onion seeds on half of it. I doubt they will grow big enough to eat before it freezes, but I had the seeds so it won't hurt anything. I am going to pick up some radish seeds for the other half. We still have time for more of those.
Tomorrow is the Golden Days Parade to celebrate the discovery of gold and the development of our city. The boys are going biking/skateboarding and have no desire to watch it. Honestly, I've seen it enough times I really don't care to go either, but I know Olivia and Lucas will love it so I'll do it for them. Unless it is raining.