Are they cozy or what? I have to say since Sally has gone to an new home and taken her grouchy-
feisty
temperament
with her these two are HAPPY. No more growling at feeding time; no more nipping; it's all good.
Every morning (or late morning when I sleep in :) I am greeting by this sweet face. Bossy she is...definitely fat and over-fed, Daisy thinks she is starving to death. She's very pushy at feeding time.
This is a sight that makes every morning bearable.
Hey, not all of us are morning people.
"Hey, let's trip the lady bringing us food". Really? What are they thinking? If I hit the dirt, feeding time will be delayed. It still doesn't stop them from trying to trip me up.
The pods look good. Inside are very small peas. Sure hope they grow. Look! Broccoli. Yes, it is the size of my thumb nail,
but it is still broccoli.
I have four of these watering cans blooming. My hubby was such a dear for bringing them home to me. First time I've had these petunias and they are pretty cool.
Last night I watched Nick make lots of awesome corner kicks like this one while Olivia and Lucas played in the empty field behind me. They were so good for three long hours!
Then they grabbed the camera. Photo by Olivia. And she caught me, too. Yes, I knit while I watch the game. Finished one hat during it. It's that obsessive-compulsive thing I have going where I need to do more than one thing at a time or I am wasting life.
Grandma Debbi is the most awesome Grandma ever! She spends so much time with these two and is so good to them. They started out the day playing with a bubble machine she gave them last night when she had them over.
When it rains you can't mow. Look at that jungle. I like it trim and neat all the time. This was making me nuts. I concentrated on the front yard today and totally ignored the gardens. I think I may have more than one person can care for!
First I run the weed-whacker around all the beds. Not a well thought out plan, I might add. Then I mow...forever. After that I use my handy-dandy blower to clean up the sidewalks. All that stray grass makes me crazy. It's a long and time consuming process.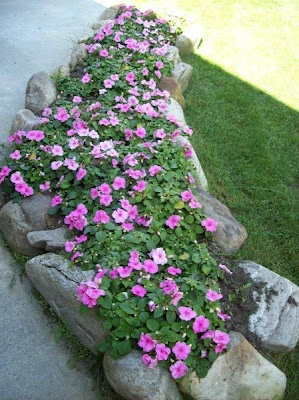 Olivia modeled by some of the beds until my camera went dead. I wanted you to see how big some of these flowers are. Yes, Olivia still wears glasses, but the pair she has gets dark in the sun so we took them off to show her beautiful face.
My sunflowers are so tall. I sure hope they bloom.
Such a big football day. Elijah was at practice from 9-5 and then had mini-scrimmages from 6-8. He's so beat. He's the blue helmet on the ground making the tackle. He's actually on the yellow team, but he wears red since he is the back-up quarterback. Lets the other team know not to take a cheap shot on him. This is only the 5
th
day of practice. We don't want anyone to get hurt.
I missed the shot, but he plays corner and he batted down a pass intended for the guy in white. It was awesome!
That's Nick in the middle with his hands on his hips. He was with the Varsity scrimmaging
Eielson
. Dad and I had to run back and forth across the parking lot to watch both boys. Nick didn't get to play and it is a story that makes my blood boil, but he just wants to wait it out to see what happens. He is such an awesome kid who is so calm and
optimistic
. He really makes me proud of the man he is becoming.
Well, tomorrow Elijah has to be in North Pole (30 miles away) by 9:30am for a scrimmage and Nick has to be at the soccer field for his final game at the same time. I'd like to watch Nick, but have to drive Elijah so football it is. With the Wee People.
And I hate mornings.
Won't this be fun?! Yes, it will. Okay...it's 12:30am so I should start thinking about bed. Hope everyone is enjoying their weekend.