Saturday Andrew and his girlfriend were over to visit and see the puppies. If you are my friend on Facebook you know that one of the puppies was struggling. I'm sad to report that he passed away last night. Everyone else is looking great.
Our 4th of July was spent down in Ester. It's great being a part of a small community celebration (I've never gone to festivities in Fairbanks). We sat with the Cogley family for the parade.
The parade starts out with the bicycles and there were a bunch of them.
Ester is very green or at least that's the impression many give. Calypso Farms is no exception. They had a pretty entertaining dance routine.
Every year they pass out huge radishes along the entire parade route from the Golden Eagle Saloon to the Ester Park.
Here's our neighbor Mary and her grandchildren. She owns the two Wendy's restaurants in our area and donates so much to the community picnic. Very generous people.
Back in the day my boys have participated in the parade as Cub Scouts. One of these Boy Scouts worked for his Eagle Scout ranking by getting a flag pole installed at the fire station adjacent to the park. (I forgot to get a photo). It's a nice addition.
This is the Mayor of Ester followed by Smokey the Bear.
These two were married on Saturday...she's one of the bartenders at the Golden Eagle.
Isn't that hog a beauty? I should have taken a photo of all the tables of food. What a tasty potluck.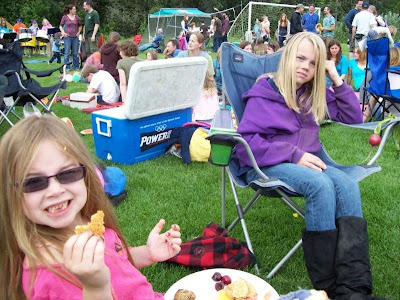 The steel drum band marched in the parade and then entertained us for quite awhile at the park.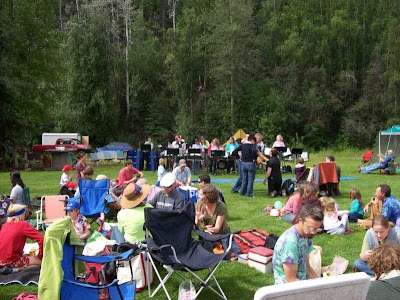 Lucas went around and around on the slip 'n slide. That water was freezing, but he didn't care!
Nick played soccer and Prakash goofed off.
There were lots of games for great entertainment.
Emily is laughed so hard on Nick's back!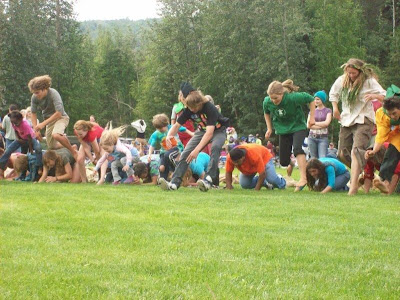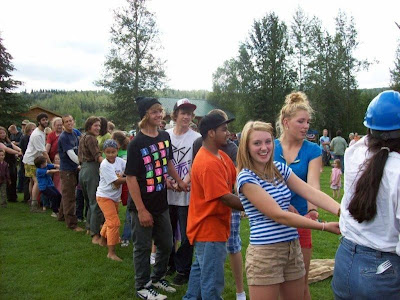 Super Dad getting wet with the kids.
Later about 20 kids went swimming at a pond and we waited around the park with the two little ones. Then some of the kids came back to our house for more swimming. It was a very late night and none of us are moving too fast today! It was raining all morning, but I see the sun has finally come out. I'd better get out there and enjoy it while I can.
Below are clips of the bagpipes and steel drums in the parade: