I'm really loving cooking out of the garden. The other night I made a
Parmesan
Radish Green Pasta,
Parmesan
Chicken and a simple green salad. We also had to-die-for Cream Cheese Spinach Dip.
Yesterday Em and I did the shop around thing. We hit the
Walmart
in the foreground, but we also went to the very end of this strip mall to Sports Authority where I found replacement shoes. They were the same tennis shoes that I had (which were full of holes) for half the price. I bought two pairs...one for garden/animal pen work and one for going to town.
My feet are happy.
We also took a spin through Pet Stuff to check out the animals. Oh, and we went to the Home Depot across the street.
This kills me. Drive all the way from California to Alaska to sit in your lawn chair in the
Walmart
parking lot watching traffic drive past Home Depot. Hello? The
Chena
River is just down the road. You will never catch me driving all the way to California to do the same.
We also went up to
Risse's
Greenhouse to buy Peonies except they were sold out.
Good thing.
I hear they were $25 a plant and I needed nine. My friend hooked me up with a place to order from where they are 3 for $12. Much better deal although I do try to do business locally when it is reasonable.
This place has 14 or more greenhouses. It is quite an operation.
The gas pump photo is just for
Tink
. This price
is with
my 70 cent per gallon discount with my Fred Meyer card.
Outrageous
, huh?! I have a 30-gallon tank. Ouch!
Dad and I took Emily to sit on the deck at Pike's Landing. We try to do one-on-one things with her whenever we can. It's tough being the middle child.
This morning I woke up to two extra kids. Always someone sleeping on my couches! :) I drove Elijah and four of his friends down to float the
Chena
River today. I insisted one of the rafts had a hole, but he thought I was crazy. They made about an hour and had to pull out of the water because it was flat.
Ummmm
...told you so! :) He had a good time anyhow.
These guys swarm my feet when I go to the pen. I can barely walk. I raked right after the second photo. The chicken pen is cleaner that my house! :)
Here's
Harrah
. This is our son Andrew's dog that we are dog sitting for the summer. She's a real sweetheart and today she had eight puppies! We are keeping the closest brown one (I think). We really want the white one, but it is male and I prefer female dogs. There were five males and three females in the litter. Olivia and Lucas are so excited about them, but more excited about their brother. He spent some time pushing them on the swing tonight. They love when he visits each week.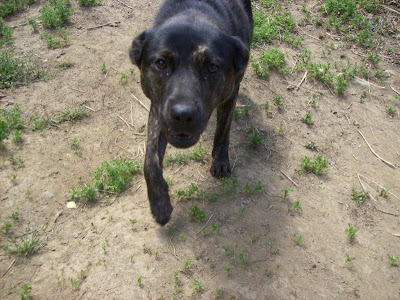 Nick owes me 20 hours of babysitting since he foolishly bet on the Celtics in the play-offs. Did he really think they would beat my
Lakers
?
LOL
We cashed in a couple hours tonight (he thought I had forgotten. He wouldn't have forgotten the $100 if he had won the bet!!) We went with Emily up to our neighbor Dave's house. Such a nice evening of friends.
Hope you are all headed into a wonderful 4
th
of July weekend celebration!! :)