Last week was a basketball week. Elijah made me so proud!
It started with a semi-final game on Wednesday against Ryan. The boys started off rocky and really had to struggle back to a 50-39 win. (See previous posts)
Thursday was the championship game against
Tanana
. The final score was 41-26, but until the very end the game was a lot closer than that. It was a very physical game. He worked incredibly hard and gave it his all.
Friday morning we were up at 4:00am and down to the school a little after five. The bus pulled out at 5:30am for a 355 mile trip to the Valdez Invitational Basketball Tournament. The bus arrived at 12:15pm and the girls were on the court at 12:30pm! The boys followed them.
The first game was against the Anchorage Christian School Lions.
ACS
is a private Christian school. We won that game 49-34.
Our second game was a couple hours later against Colony Middle School from Palmer. They have 655 students in 7 and 8
th
grade. We won that very physical game (Elijah took a hard elbow to the nose) 40-14. The #34 in the photo with him was a nasty dirty player who would be better suited for football!
Saturday morning the first game was 9:00am against
Cordova
. Cordova is about a four hour ferry ride out of Valdez. They have 184 students in the Junior/Senior High. By this game it was obvious our boys were wore out from the week and they were really struggling against a team they should have easily beat. We ended up winning 23-19.
A few hours later the boys played the semi-final game against
ACS
. They had beat them by 15 the day before, but being on the road and being on their sixth game in four days finally took its toll on a few of the boys. They just didn't have any get-up-and-go. They fell to the Lions 30-35. This should have been the championship game as the two best teams ended up in the same bracket. The championship ended up being a blow-out with
ACS
taking the title. I was very proud of the team for giving everything that had. I felt bad for the boys as I really believe they would have taken the tournament had they gone down to it fresh.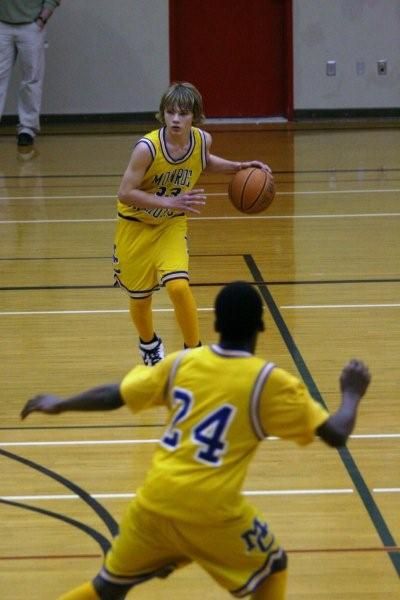 I'm sad that the season is over. It was such fun watching this talented group play. Next up will be Nick's wrestling followed by Elijah playing Interior Youth Basketball. I guess this means we have about three weeks to work on the house! :)