Share your World
HERE
!
This past Friday my husband and I drove 355 miles to watch our son play basketball. Then we drove 355 miles back home on Sunday. I know it is photo overload, but I wanted to take you on part of our drive.
This is just before Thompson Pass heading into Valdez, Alaska.
As we
climbed
into the pass the rain turned to sleet and then to snow.
Once we were down into Valdez the snow turned back to rain. This is the high school gym Elijah played at. Right up against the mountain!
We took a walk and this is what we saw.
Across the water from our hotel is Allison Point (where the fishing is awesome) and the
Alyeska
Pump Station.
On the drive home it was obvious some snow had fallen while we were in town.
We did see a moose right on the side of the road here, but by the time we stopped and turned around he ran into the woods.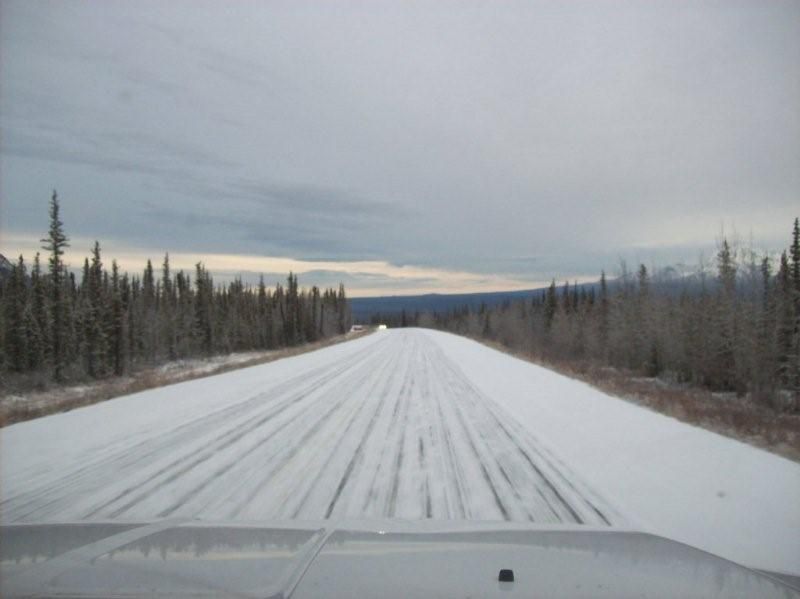 We have some friends that built The Lodge at Black Rapids. On a whim we turned around and stopped on our way back home. Am I glad I did. When Annie would tell me about the place they were building I had an idea, but I was wrong. This place is amazing. The attention to detail for their guests, the wood work and rock work, the comfort you feel when you walk through the door is
unbelievable
. This, I think, would be the most perfect place for my friend
Tink
to relax. Annie and Michael are extremely intelligent well-read individuals that she would find enjoyable. Annie is the head of the Breast Cancer Detection Center (the last I knew) and I believe Michael is a psychologist. Both amazingly interesting people. You can read more about the lodge
here
! By-the-way, when we went to leave we heard coyotes howling in the hills behind the lodge. How cool is that?
I hope you enjoyed a small very short part of our very long drive to Valdez to watch a little b-ball.