Emily designed the top and set up the Nativity Set. She was so fun to decorate with.
The girls got out all the "kids" ornaments for putting on the tree. We had a family discussion (the kids did) about what "theme" we wanted. This year all five definitely wanted to decorate with the ornaments that had been made by them (that we didn't even unpack last year). We're having a rough patch right now so it seems that were drawn to something that helped them remember the good times from the last few years. Funny thing...the more someone tries to tear my kids away, the harder they cling to me for security.
Emily had to leave this morning. It really sucked. The first words out of Lucas' mouth this morning was to ask where his sister was. Olivia commented that she didn't say good bye (they were asleep so she couldn't). It was hard on us all having her gone. Five siblings minus one was wrong. It also made me think of the other three that should have been here, too. Their dad really misses them and you can see the sadness in his face, but we just try to find the good in where we are. None of these are our choices.
The kids played outside today, but it was too cold for me. Plus, I was busy cooking! I missed shots of the little ones, but these too were up to their usual tricks.
My kids are all so picky. I do not believe there is another person in this world that could sit my five down and fix a meal each would eat because it involves many separate things. Homer is here with them every day and still can't do it. Dinner was soooo funny. We got Nick to taste sweet potatoes. He ate it, but didn't really like it. So then I tell a gagging story from my child hood. Next thing I know Elijah is putting a bite of sweet potato on my plate. Nick says, "Try it, you'll like it". They were laughing and making fun of me and then Elijah says, "You liked it, you just won't admit it" which is exactly what Homer said to Nick. It was so funny. Everyone was laughing so hard, but me because I was gagging and ended up spitting them out. It's a gag reflex that has followed me since child hood. Made for a lot of laughs though.
The tale of a turkey. For those of you that are pet owners and not farmers you may find this upsetting and may want to stop here. I am both. I have pets I could never hurt and I have farm animals raised for eating. It's a fine line, but we manage it.
This is Rupert in May shortly after his arrival.
Rupert in June when he was put out in the yard alone and squawked pretty loudly about it.
Rupert in July...he is the big one on the right.
Rupert in August.
Again in September.
Finally, Rupert in October.
This was Rupert today being coaxed out with a little food.
Mr. White catching Rupert.
On the way to the butchering block. Surprisingly, he didn't make a sound.
Hung and ready to butcher. I did not take photos of him getting his throat cut or him being bled out. That was just a little too morbid. Emily was already gone, Nick, Elijah and Olivia went in the house and would have nothing to do with it, but Lucas stood right there with me watching the whole thing.
Homer used the deep fryer to heat water to scald him in. This is where his feathers were plucked and he was gutted. Not the most warm or comfortable spot, but it worked.
Look at the size of those feet!
Filling the sink and waiting for me to do the touch up. Before we got started we thought he would be around 14-18 pounds. He was 28 pounds!! Homer had to run to the store to get a bigger pan and he still barely fit in it!! (I haven't driven on the ice roads yet).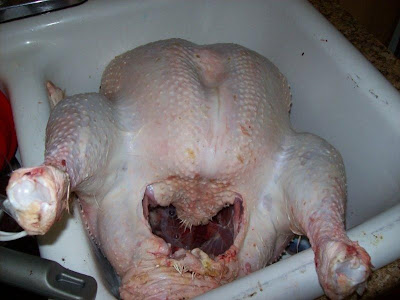 His gizzard. Yes, I saved the rocks. I'm weird like that.
See what I mean about barely fitting in the pan (which was the biggest on left at the store).
Stuffed with Wild Rice Stuffing. Nick, Elijah and Em's Grandma lives in MN and makes a lot of meals with wild rice. I thought I'd do the same this year to honor her since they don't see her very often. The kids don't eat stuffing, but I will have them taste this. I'm sure we'll have another laugh.
Basting...
About six hours later you can see how he completely consumed the oven. We'll be eating turkey for two weeks!! I do have to say that the white (dry) meat was so moist. He was eight hours from yard to table...doesn't get much fresher than that. It would be hard to eat an old, frozen turkey after this.
I let the boys spend some time with a friend tonight. Holidays are about families, but they are also about people who are important to you. Homer and I tried to watch the late football game on the Internet, but it was glitchy. The Littles played Wii and then watched the Simpson's Movie on TV. Now everyone (except Lucas and I) are fast asleep. That is where I am heading now. I have a cold that I refuse to let slow me down, but it doesn't mean I don't still feel like crap. Stores opening in 3-4 hours, but I think I'll skip this one. The boys have an unnecessary battle coming up and need everything I can give them.
I hope each and every one of my blog readers had a wonderful holiday with those that they love. It was a pretty quiet day on the blogging front so I am hoping to have something to read tomorrow!!