This was Lucas playing the xBox this morning.
Taking it from there....
9:00am: Gave the Wee People breakfast.
9:25am: Hauled in wood while the dogs at breakfast. (Have to keep an eye on sneaky Rusty plus I was out of wood).
9:35am: Swept up; cleaned pigeon cage.
9:40am: Took Olivia up for a shower; made beds, hung-up clothes, started dryer, started a new load of wash while she got dressed; dried and fixed her hair.
10:15am: While van warmed up I unloaded/reloaded the dishwasher.
10:25am: On the drive to school Lucas starts a discussion about which store is better. It's decided the Fred Meyer is the best store because it has the blue Star Wars sword. Then we play adding games.
10:42am: Olivia is dropped at school and we are on the way back home. There's hardly been any snow this year.
It looks a little more like winter at my house.
There's Rupert!
11:00am: Make an egg sandwich while stoking the stove and feeding the worms. My efficiency comes from multi-tasking.
Wow...that sounded good, didn't it?
Truth is, lack of patience means I can't stand and wait for the toast to pop up...I have to do multiple other things while I wait.
11:14am: Done with breakfast and typing blog up to this point. (Figured I wouldn't be able to remember it all tonight).
11:20am: Made Lucas a sandwich and put on a movie.
11:30am: Fed the chickens and Daisy. Guess what? She loved the vanilla wafers!
11:48am: Millie was running wildly throughout the house causing a big commotion. She got to go to her kennel for a little time-out.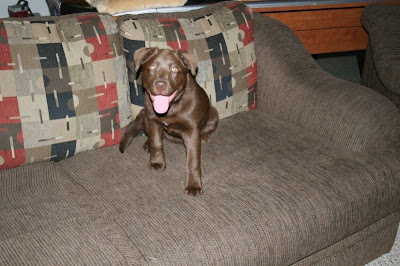 11:50am: Cutting out the costumes.
12:09pm: Fed the Betta while getting more coffee. (I don't this he's ever gotten his photo on the blog).
12:33pm: Finished cutting the vampire and witch. Now on to the cheerleader.
1:29pm: Helped Lucas with some puzzles in his new Iron Man coloring book from Grandma Debbi. The cheerleader costume is almost completely cut out, but my back is killing me. Took the dogs out, stoked the fire and now headed upstairs for a quick shower to release the tension in my back.
2:23pm: Didn't go upstairs until I finished cutting the red part of the outfit. Folded clothes, put them away and started another load of laundry. Showered and headed out to the chicken coop to cut Styrofoam for the insulation with my side kick.
The girls sunning themselves.
I cut the pieces between the first two 2X4's on the left.
2:51pm: Headed back inside. It was only 33* in the coop and I couldn't figure out the heater. Little Lucas got cold helping me and wanted to go in. Rupert puffed up for us and Lucas thought he looked funny.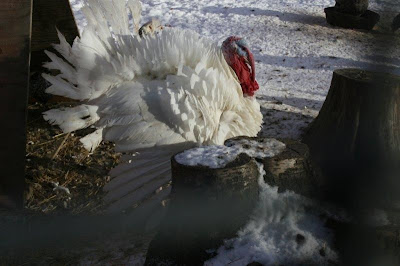 3:42pm: Lucas was working on a puzzle when the girls got home from school. Imade banana bread and had it in the oven, unloaded/reloaded the dishwasher (again) and then got in a nasty fight with my teenager about school.
6:21pm: The kids were playing school. Of course, Emily was the teacher. It was pretty funny to listen to. I, of course, was sewing (after I ran upstairs and did another load of laundry).
8:22pm: I finished Lucas' vampire cape. Well, except for the hook and eye to hold it closed. I thought I had some, but I was wrong. It also has a scarf, but it isn't as important as finishing the other costumes.
9:02pm: Can you see the nasty fuzzy balls on these pants that Emily came to my house in? Well, if you can't they were horrible, but I used my fuzz-ball remover thingy and fixed 'em up while watching Lie To Me with Em.
And the rest of the night....
Dinner was a hodge podge of snacks as I was deep into my sewing. The boys went out to dinner with Dad to talk about Elijah's behavior and our arguement. Since nothing was said to me upon returning
by any of them
I'm assuming it either didn't go well or everything is my fault and I'm a POS Mom.
The boys had a 7pm game. I thought Dad was going, but he came home to work on the chicken pen for an hour. By then it was too late for me to go, but that's okay. It was another 20 point loss. Amazing how they went from the best team to not even in the same league by losing one of their good players. Just puts too much on Nick and Elijah's shoulders when the other teams have 3-5 top players.
I got Olivia's dress half done. I could finish it tonight, but it is 11:40pm and I'm tired. Arguing with my son wears me out mentally.
I'm stressed about finishing the costumes tomorrow. Olivia's will take an hour or two, but Emily's cheerleading costume is out of my league. I should have looked more closely at the pattern before agreeing to it. Elijah's is probably okay, but I haven't even cut out the pattern yet. Going to be a long one tomorrow night.
So there you have it...a walk with Gayle. :) Glad you took the time to come along. Looking forward to checking into your world....Wednesday. LOL I have to sew tomorrow!