What can I say about today? It rained and rained and rained and everyone was miserable.
I cleaned and cleaned and cleaned in the house. The plan is to pack it up or throw it out so nothing is in the way preventing the house remodelling from happening. We've been at this a lot of years and I just want it done or at least more liveable.
Elijah had a football game tonight against the best team in their conference,
Eielson
High School (from
Eielson
Air Force Base). They beat us 40-7 and could have easily had another three touchdowns, but they showed a lot of class and took a knee on their last three runs in the 4
th
.
Elijah is #12 in blue. He played defensive corner which really is a new position. In the youth league he was the quarterback. He's injured (arm and shoulder) and is sick (slept 14 hours last night), but he still got out in the damp and cold. I'm very proud of him.
He got to play QB the last five minutes, but because the other team ran out the clock on their possessions he only got 4 plays. Two hand-offs, one completed pass and he ran for a few yards when the pass wasn't there.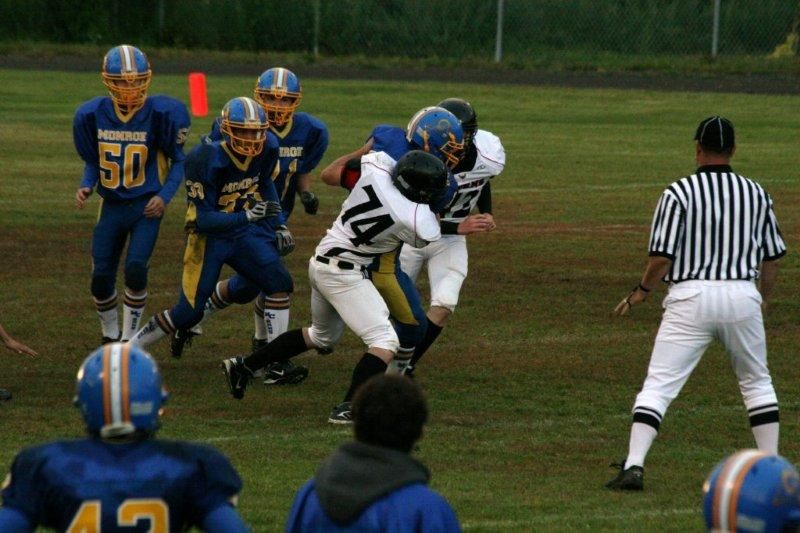 The geese are outta here. Winter is on its way.
To answer a question from a blog reader: the structure in my vegetable garden is a greenhouse. A large one...20 by something or other. Last summer it was covered in plastic and I grew quite a bit of stuff considering it was a late start. This summer my husband was able to purchase the sheeting for the roof, but he never got enough time off to put it up so I didn't grow anything in there this summer. There are two long beds on the sides and we still need to build the big center bed. Really hoping to get the roofing on before the snow flies. Then in the spring we'll just cover the sides in plastic, fire up the furnace and get it rolling the first of May.
Hoping I'm less grumpy tomorrow. Feeling a little frustrated with the house, messy children, rain, undone projects, sick kids....I hope to wake up a lot more cheerful than I was today.