I've noticed my comments are way down compared to six months or a year ago. In fact, I think they are down on many of the blogs I read. Are we all getting bored with Blogger? Is
Facebook
doing us in? Are we all just so busy?
Maybe I've just gotten really boring.
Yes, boring it is, and this here is a boring post.
*hangs head in shame*
Yesterday, I cleaned, cleaned and cleaned. Do you know it took over an hour just to clear the kitchen table?
Insanity
. Homer is working on taking out the garage door and building a wall so the stairs can go in. Remodelling with seven people living in the home is proving to be the biggest annoyance ever.
And slow.
I'll take photos today. Yesterday, I was a tad grumpy as Andrew's dog started barking at 7:10am and proceeded to continue most of the day. I really dislike barking dogs and Harrah just would not shut up.
After cleaning, throwing out, packing and moving stuff all day I took Elijah to football practice. He didn't have his helmet so I had to drive back for it. Before the night was over I drove 90 miles for one football practice. That made me grumpier.
For dinner I made crab stuffed mushrooms, grilled corn on the cob, grilled steak, baked
potato
and a spinach salad. Entirely too much food and dinner was nibbled on throughout the evening.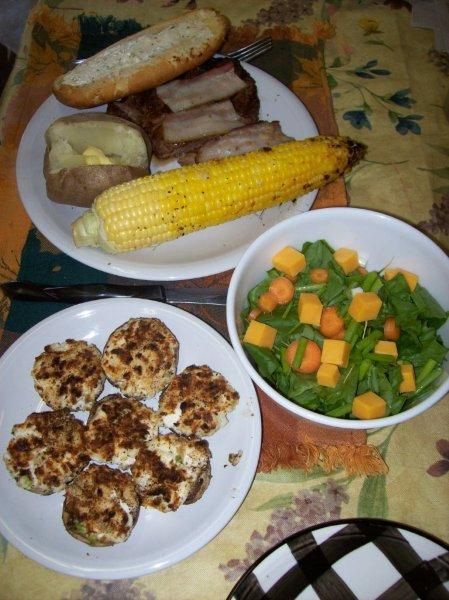 After spending all day getting things moved for Dad he didn't even work on the house. He had to spend all night working on a pen for Andrew's dog. I give up. This house is never going to be done nicely and just be
livable
.
After Andrew left Dad worked on the little 4-wheeler for awhile. It needs some
carburetor
work.
Lucas, Olivia and I threw rocks at a helmet to see who could land one first. How's that for some redneck entertainment?
So all in all yesterday gets a 4 out of 10 rating. Dinner was outstanding and his dogs are now able to run around, but other than that it was blah. Looking for something a little more up there on the fun meter today!