A small break in the rain and I mowed like crazy. I hate the jungle look.
I do seriously need to weed. In some of these beds you'll see a lot of errant grass. What is a girl to do? The coleus is doing far better than I thought it would do. Last year the coleus I bought never grew. I'll definitely dig these and the Impatiens up and get them in the house before it is cold.
I was complaining about the Impatiens not blooming and then the next day there were a bunch of flowers. I think they heard me.
This was the last bed to be planted and it got leftovers. There are
schizanthus
, snapdragons, nasturtiums and sunflowers. There are petunias in the pots and
allysum
that reseeded itself. Wish there was sun to make it look pretty. The next bed is snapdragons,
mimulus
(monkey flowers) and viola (johnny jump ups).
I love the colors of the snapdragons.
Lukey
calls them "the flowers that talk". I want to grow a lot more monkey flowers next year. They seem to be "the other petunia". So easy.
A close up monkey flower and then the next bed. I totally forget what the plants in the front are. It is a perennial that has actually come back two years in a row, but I suspect they are supposed to be a lot bigger. Last year they sent up shoots with flowers. Not so good this year. The rest of the bed has
dianthus
, pansy, viola and petunias. They all are craving dry, hot sun. Rain for the last three weeks has us all drowning.
Pansies are so cool. And I was actually going to throw the butterfly flowers in the trash. Instead I planted them. They were all laying in the dirt. A month later they are standing tall with so many flowers. Next year I'm planting more!
Here's an everlasting trying to open. There are also a few
strawflowers
trying to open. I only can hope. The second shot is painted daisies who are also waiting for the sun. I counted 24 buds on one plant. Please, some sun.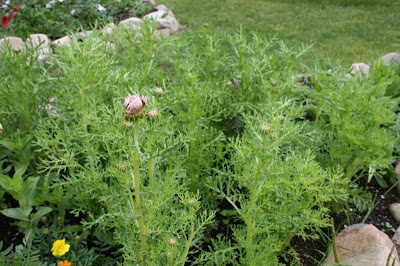 Snapdragons have such a variety of colors and this is the first year I've grown stocks. I remember my moms and while mine are small they still have that amazing smell.
For the life of me I cannot remember what the first flower is.
Hmmm
. I must be losing it. Anyhow, only a few have bloomed.
This bed has petunias that should be three times that size and a bunch of dahlias that don't have a single bud. Why is that?
Some of the glads are "rotting" and turning red and yellow. They really need hot sun and warm weather. The ones I grew last year were in pots in the greenhouse half the year. My mom always had these, but they were in a rock wall bed against a log house. Lots of retained heat. I sure hope they bloom. A hundred dud bulbs wouldn't be much fun. Oh, and there are those hot pink tidal wave petunias that reseeded themselves. I think I will do a post on all the things that are growing where they shouldn't be!~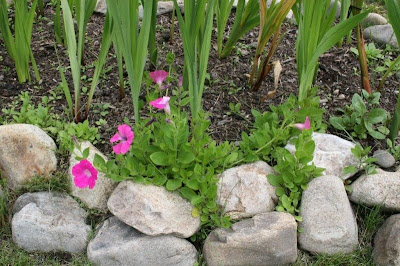 Geez
, could I just have three days of sun so all the dahlia buds will bloom. Please. This dahlia plant has 14 buds. Can you imagine?!
Even though the petunias would be a lot bigger if it was hot and sunny, they will still grow in the rain. Thank goodness. I finally got a couple nasturtiums to bloom. Yea!
Marigolds seem to do good in all kinds of weather which is why I grow them. The painted daisies really want to fill the bed in.
I have 16 hanging baskets. They are just starting to bloom and really should be hanging a foot or two down. Bummer.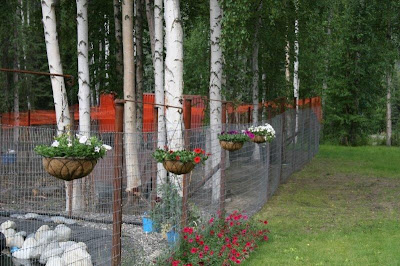 I have bunch of pots of petunias as well. Last year at this time the flowers were to the ground hiding the pot.
Very excited to have some geraniums even if the seed packet said they were red.
Those Johnny Jump-Ups will grow anywhere...in the lettuce and spinach...
even from the side of a board!! You can't even see the dredge bucket!
You can still make it out in this one.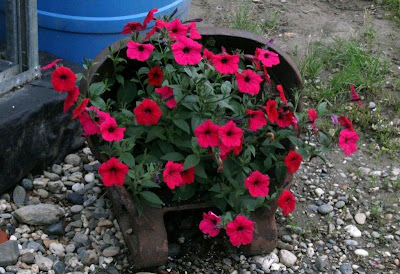 I'm so glad that I love gardening or I would be crying the blues over the lack of sun this summer. I have a ton of flowers compared to a lot of people, but I am still frustrated with "what could have been". I'm already looking forward to next summer! Are you?