Yesterday Olivia and Lucas helped Dad open some gifts. He got some new BBQ tools and we are getting him a new BBQ as well. I told him he has to help pick it out though. I tend to get more than we really need.
Here's my big load of dirt. Put some in a new garden bed, finished filling the trench in the ditch, some for a new bed along the greenhouse and the rest went on a tarp until I am ready for it. The boys even helped with all the shovelling and that was a big bonus.
There's my sweetie. Even on Father's Day he worked around the yard.
Today I caught Lucas sweeping the concrete all on his own. So sweet. Emily brushed her sister's hair. Em has a very sensitive head and understands the need to be gentle. Olivia appreciates her doing it more than me.
The girls get in the pool several times a day. The cold doesn't seem to bother them at all!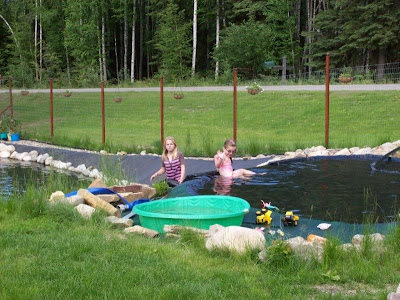 Look....yesterday morning while it was raining something awful Dad finished hauling the water and now it's full!
Finally finished planting the Tidal Wave Petunias along the fence. Planted 98 of them entirely too close to each other I am sure, but it should look beautiful if the sun ever shines so they can grow. This is the rainy summer. Since I've been gardening it seems to be an every other year thing. The year we put the garden it and got married I don't think it rained a day. Then the next summer that is all it did was rain. Last summer was hotter than heck and now this summer is cold and and wet. Guess I have next year to look forward to!
Look at those three rose buds all together! I am so glad my lilac bush is blooming this year.
I call this my Louisiana rock (and its other half).
Today was downright horrible. Nothing in particular happened today, but the weight of all the awful things my family has endured the last couple of years squished me.
Flat.
I cried all day about everything. Cried while I planted. Cried when I took photos. Cried when the boys and I had an
argument
. Cried that I couldn't buy them some things they want. Cried that things have been so hard on us lately. Cried out of anger and frustration towards the people that want to hurt us. Cried on the phone for an hour to my niece who was sweet enough to listen.
I had such a headache.
Then my husband came home. He hugged me and simply said, "There is nothing that will ever come between us".
Then I cried some more.
I got into a raft and floated in the hot sun (that finally came out) for over an hour. Dad napped in his hammock. The three youngest swam in the pool. No talking, no photos, no worries. Just let things melt away in the heat of the sun.
I know I have so much to be thankful for. I have five great kids who live with us and another son who visits every week. I have my home and my hobbies. I have the most wonderful husband in the world. I have so much. But today I cried for what we don't have.
After our down time I knew I needed to find something to snap me out of this place I was at. I took just Em and we went to watch Nicholas play soccer. We took photos, talked, laughed and listened to music on YouTube on my phone. In that two hours I found my happy place again. The place where I can be thankful for my kids who love us dearly. For my family that is strong. The place where the bad stuff doesn't touch us. I know that we cannot control the selfishness of others. We cannot control what others do. Or say. Or don't say. We can only control how we react to it all.
So hopefully I cried it all out and will be good for another year. :)
Tonight I found something I love more than anything...watching this kid have fun.
And this beautiful girl made it all better, too. Nothing compares to the love between a mom and her daughter. Or son. Or other daughter. Or other son. Or another son. Or even another son. I am so blessed.