It's been hot and dry for a few weeks now. In the afternoons the thunder clouds build up, but I am in a "no rain zone". As I stand watering my yard I can watch these babies circle right around and never leave me any rain.
I guess I'm lucky like that.
Daisy has half a wool cut. Silly sheep.
While I filled the wheelbarrow Nick entertained the little ones.
The girls play in the sprinkler often. It really has been so wonderfully hot.
Olivia had her first soccer practice. Note her right on Dad skirting around the other kids. We couldn't get her to participate.
This is as close as she got to joining the fun.
Lucas got right out there and joined her team. Didn't bother him a bit that the kids were almost two years older.
At some point this weekend Dad took me to dinner on the deck at Pike's. Very relaxing. Then we stopped by Dave's to watch the sun "set".
I packed out 85 Dahlia and 80-something marigolds.
Around 100 Impatiens and saw another rain cloud pass by.
This week I've planted 157 Gladiolus bulbs at various stages of growth.
Mulched this lilac and planted Nasturtium seeds. Added rocks, more dirt and mulch to the roses. I need to plant some
Alyssum
around them.
Added more rocks, dirt, mulch and 20 Viola around this Lilac bush. Also, choked on a little pollen. At times that white fluff is falling so thick it looks like snow. Normally the rains would knock it down, but we haven't had those. I'm so glad I am not allergic to it.
Yesterday we took a day off from working on the yard. Hard to believe I did it, but it was great. We floated down the
Chena
River...three adults and seven kids. Here's Olivia and Lucas in the boat with us and
Jadyn
and Emily in a raft.
Nick and
Prakash
were on the Ghetto Raft left over from the Red/Green River Regatta a few years back. Elijah was in a raft and Tisha in an inner tube.
Lucas hopped in with Elijah for awhile.
Olivia got in with
Jadyn
for awhile, too.
Jadyn
even did some swimming and it was cold!
Lots of smiles from everyone.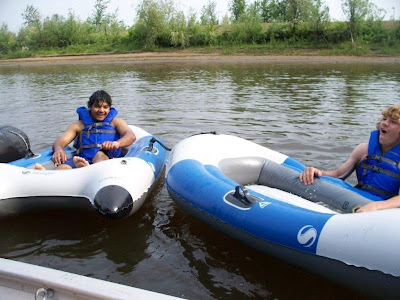 Hope you are enjoying your holiday weekend as well.