Yesterday I went to Pioneer Park with four of our five children. See the black clouds? It really wasn't a park day, but sometimes you just got to roll with it.
We had a picnic. We really just stopped at the deli for some fried chicken and
jojo's
, but it was
like
a picnic. After the four people behind us left we had the whole park to ourselves.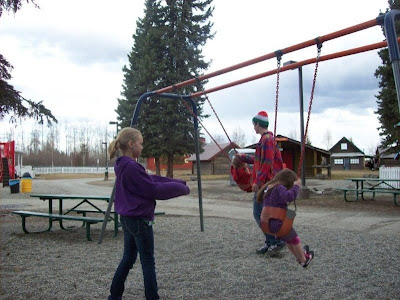 After the park we stopped by Creamer's Field to see the geese and swans.
For Earth Day I wanted to plant a Lodge Pole Pine in the yard. We went to a local greenhouse, and after seeing the $125 price tag I decided I didn't want one that bad. See the hanging baskets? They were $45-$60! I couldn't believe it. They had so many in the five greenhouses obviously people will pay that price, but I sure wouldn't.
Emily with one of the $60 baskets.
Emily really liked this planter, but I think $200 is a bit over-priced. The chair was $300! I told her I bet we could make one of these. Or maybe not, but we could have fun trying. I think the key is an air nail gun, and I have no clue if we have one.
It was raining when we left, but it never did rain on our side of town.
These are my Delight and Dwarf Dahlia's. Those plants were $4.79 each at the greenhouse. I grew 97 of them.
Things are filling up. There is another row under the bottom that you can't see. Everything is doing pretty good, but there is no substitute for actual sun. Wish I had a bunch of big windows to rotate them at. I'm afraid to move them out to the greenhouse. Could you imagine if the furnace quit in the middle of the night?
Pretty soon we'll have to put up the rest of the lights.
There was a wind advisory last night so I wasn't permitted to burn the rest of my grass. The wind never did blow at our house, but rules are rules. I hope I can finish that project today.