It is ten minutes to 1:00am and I just hit the I-Have-To-Go-To-Bed-This-Minute-Or-I-Will-Die Stage. Bear with my typos.
The Dahlia are going crazy. In fact, they are into the lights so I decided they would have to go upstairs in
the
windows until the greenhouse is ready to go.
I went up to this. Emily has got to be the messiest little girl. There were piles of dirty clothes everywhere, etc. Anyhow, I cleaned things up, set up two milk creates, 2 X 4's and a fan (to make the stems strong). Then I began packing up the flats of plants (100 altogether). Remember what a walk it is to the upstairs?
Not a lot of fun.
Here's the lawn...burnt, raked and blown. Ready to grow!
That ditch line has been blown now and isn't so black. Also half the ice in the upper pool is gone now.
The pool has been emptied since this photo. The mosquitoes were so bad I was positive this is where they were breeding. Come to find out everyone has this problem!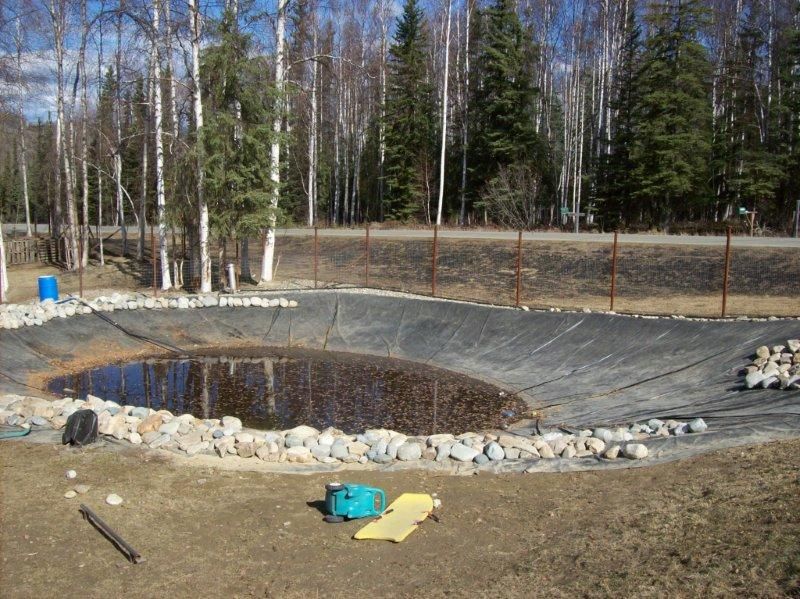 I can't wait until the greenhouse is re-covered. It looks horrible.
That stand of trees in the middle of the two gravel pads is going to be cut down. It sure will take a lot of fill to level it all out.
I am so tired of all the "junk" cars in the yard. Wish they were gone or at least hidden behind a shop!
Daisy was enjoying my company. She needs shaved, but I'm
waiting
until the mosquitoes aren't so bad.
See what we have here? A new trampoline to entertain the youngest three.
I laid out the parts and set to work. The directions tell you that it requires two adults for assembly. Well, I had myself and a 3 year old. (The 4-year old was grumpy and the 10 year old couldn't handle the bugs). It was hard. It took 4 hours of my day. I was hot, tired and getting chewed up by mosquitoes like I never have before.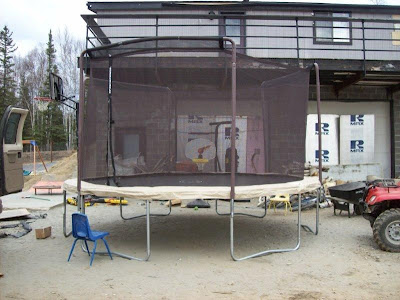 But I did it and the kids are so happy. This should bring many hours of entertainment. At 5:00 PM it was still 68* out. It would be perfect if it
wasn't
for the bugs.
See what I mean? Those are mosquitoes going to town...and this was taken after I just swatted his back. There was five times that. It's truly unbearable out there right now. I hope they go soon.
Why was Homer getting chewed up? He was putting a carpet on Roscoe's dog house so he could hide inside from the bugs.
So there you have it. I've been working so hard the last two days. Lawns, plants, trampolines, yard work....and today 4 of 5 kids were in bed sick for most of the day (hence the undressed pajama clad children on the tramp.). I'm so far behind in so many things and I am so tired. Wish I could catch up on it all. Maybe tomorrow (ya, right!). Night all.