The day began at 6:00am. Got Elijah and Nick on the bus, read the paper and drank some coffee. Pretty normal stuff. Picked Nick up at school where the Troopers had just arrived. Too common of a scene. I don't remember Troopers ever coming to the school when I was a kid.
Nick and I filled up the truck with groceries at Sam's Club. Does that look like $420 worth? Grocery prices have gotten so high!
Then Elijah and I went to Fred Meyer's for the rest of the things we needed. Rusty doesn't miss a trip to town now that we are giving the pups more freedom.
The sun was very bright on the drive home.
For my birthday dinner I wanted to make homemade pizzas with my kids. Sounded like a lot more fun than going out to eat (cheaper, too). Nick tried a cheesy crust. It worked, but needed more cheese.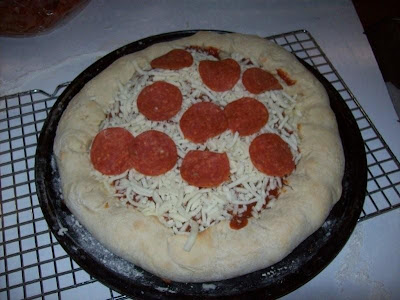 Olivia had the most fun. She loves to help in the kitchen.
Dad chopped up our stuff and Olivia finished up her pizza.
Lucas was more than happy to help Dad.
Dad and I had garlic, onion, spinach and artichoke heart pizza. Very tasty. Emily didn't come back from her dad's until after dinner so she missed making pizzas, but was home for cake.
Elijah and his mini-me. No kidding. There is a ten year difference between them and Lucas is just like raising Elijah all over again. *sigh* Let me just say Elijah has kept me on my toes and now his little brother is. Couldn't he have mirrored Nick? :)
This guy has been a joy to raise. Easy, fun and a friend. He could live at home until he was 40 if he wanted. Really.
This man made sure I had a relaxing and fun birthday. He is such a good husband and father. We are all so lucky to have him.
Look...it's that really good pizza again!
Lucas was too funny. He was blowing out my candles while everyone was singing!
I got some moose lights for my Excursion. I am so excited. I swear I'd go redneck with a dozen on my roof if dad would put them there. I like to light up the world when I'm on the road at night. I hope to never hit a moose.