Sunday morning was full of gray skies and chilly air. It took a lot of guilt to get me moving or it might have been that I was pumped up after watching
Farve
pull off a last minute win. Either way I eventually went outside to work on our unfinished Fall cleaning projects. We always have these since we go from Summer to Winter over night.
Or so it seems.
The Family Work Day was lacking in full-family help. Elijah was actually gone to a sleep over and Emily never quite made it to the work part. Playing with the little bit of new fallen snow was too much of a draw for her.
I managed to drag Nick up to help me finish cleaning the garden beds. All summer gardening was so not his thing so you can just imagine how thrilled he was about this job. He was a good sport though, as we always seem to find something to talk about. It was amazing how much faster (and more fun) this task was with help. Doesn't he look cold? He was.
While we were freezing our fingers, Dad was moving the second
connex
. Originally it was up on the hill next to the lawn with the intentions of being gardening storage, but I hated looking at it. For now it has been moved next to the semi-trailer to store motorcycles, bikes, etc. for the winter. We have some gravel work to do before it can be put in its "forever location". Another project for next summer.
Apparently, I watched Dad too long because when I turned around Nick was helping Emily build little snowmen. Eventually, he came back to helping me.
I wonder why this one tree didn't lose its leaves when the others around it did?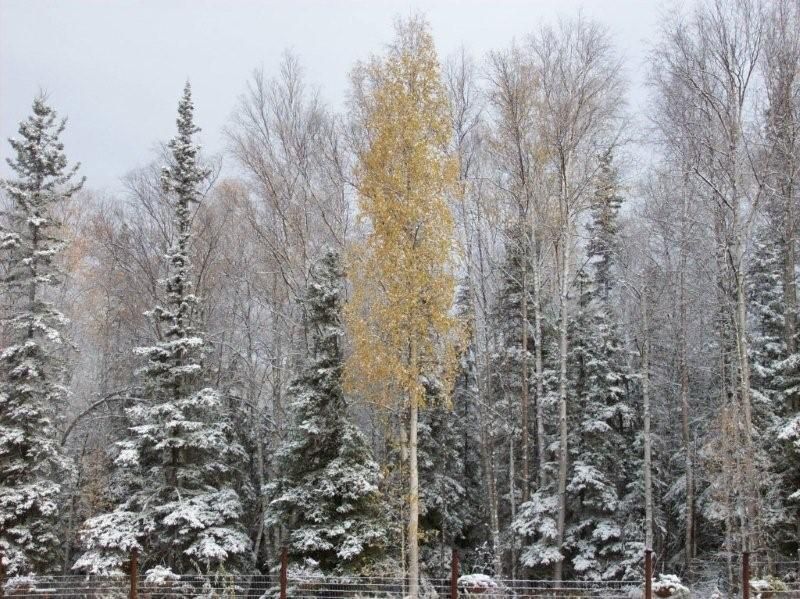 Roscoe was a little stressed about a
connex
flying by him. Goofy boy.
I wanted to get these leaves out of Daisy's pen before they were buried under snow. So much easier to clean up now then to rake it in the spring when they are all matted together.
Two trailer loads later my arms were aching! (The actual area is three times what you can see in the photo).
The girls lasted quite awhile outside considering it was pretty chilly for such light jackets. Aren't Emily's snow pants fun? They are actually boy snowboarding pants, but she loved them. Haven't found a jacket that we like yet, and nothing for Olivia, but I was able to get Lucas hooked up with snow gear. Haven't even thought about Nick and Elijah yet. I dread this time of year...coats, pants, boots, gloves...it really adds up to some big bucks with so many kids.
This was the third area I cleaned. One full load of leaves and old straw under the tarp. Trashed the old chicken wire and put the other stuff away. By this time is was getting to be late evening and I was to the point where I was chilled completely through and couldn't warm up. I did one load of brush along the driveway and called it a night.
Still so much to do.
Here's the garden beds all cleaned out. Still have to store the chairs, tables and lawnmower.
Tomorrow is another day.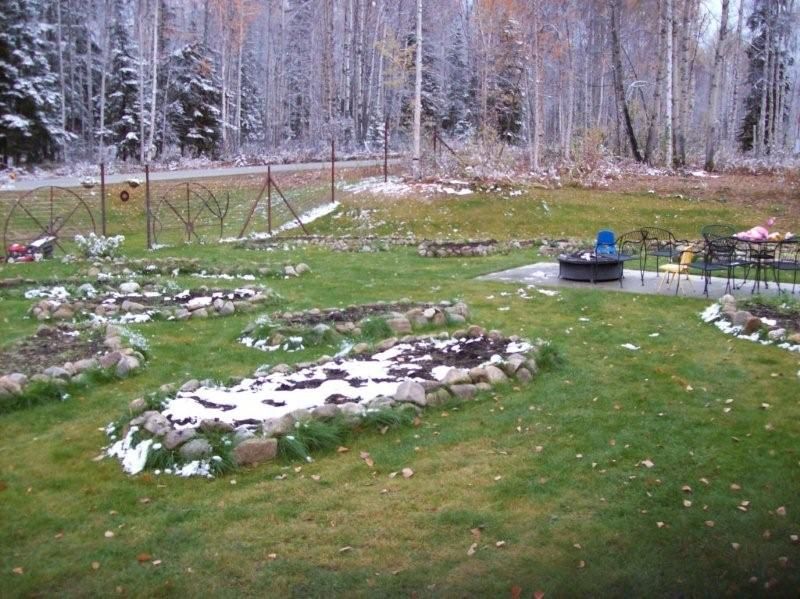 Give your daughter one special pedicure and she thinks it needs to be a nightly ritual.
Is she pampered or what?
:)
Monday has been a busy day so far already. Nick had one class at school and then a meeting with the correspondence program to pick his other classes. (Things just aren't working out for his Junior year at high school so he'll be cutting back to two classes at school and four online at home.) Then it was back to the school to do the official drop papers, and then finally home for lunch. I'm so glad we made this decision. He's already so much more relaxed, happy and stress free, and I have to be honest, I enjoy getting to spend more time with him. It's just like home schooling without lesson plans.
Well, it's time to head out to Elijah's basketball game. I don't think I'm getting much yard work done today.
*sigh*