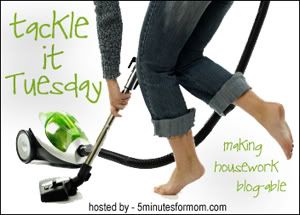 In honor of
tackle it Tuesday
Nick, Elijah and myself each got our own "tackle" job. Elijah got the pantry, Nick the van and I got the babies room.
Before...

After...
I see now he forgot to clean out the bottom and sweep, but not too bad for a 12-year old BOY who has absolutely no interest in a clean pantry. Such an impossible task in our house with so many hands in and out of there daily!
Before...
After...
Before...
After...
Before...
After...
Probably not as clean as I hoped, but it will do for today. Needs a much better job done with a vacuum and the console area cleaned better and washed. Again, for a 15-year old BOY who could careless about the condition of the RIDE as long as the RIDE gets him where he needs to be it will do.


Before...
This is actually Elijah's room (you can see his clothes and some of his stuff on the tops shelves). He got booted out for being a slob. Made him share with Nick for awhile (also a slob), and they hated it. :) The babies are temporarily in his room while we remodel other parts of the house. This summer I hope to sheetrock, mud, tape and paint this room, new window, new carpet and a new door. Then move Elijah back in. He hopes so, too.